Jeannie's thank you for Marie Curie's loving care of her sister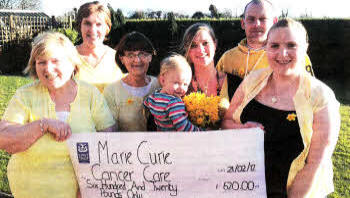 Jeannie Robinson with some of the helpers Carol Hewitt, Lila West, Rachel Hewitt, Brendan McAuley and Lisa Robinson when she held a 'Drop in Coffee Day' on Pancake Tuesday in aid of Marie Curie Cancer Care. Also included is Aimee Robinson holding a bunch of daffodils, the symbol of Marie Curie.
A LISBURN woman who lost her sister to cancer in December has held a fundraising 'Drop-in Coffee Day' and raised over £600.
Jeannie Robinson held the all day event on Pancake Tuesday at her Killultagh Road home for Marie Curie to repay them for the professional, kind and gentle nursing care her sister Anne Mitchell received in the days before her death on Christmas Day.
Friends, family and neighbours dropped by to lend their support and gave donations which amounted to £600.
Jeannie's daughter's boyfriend left in two huge was so and made fresh pancakes while friends Rachel and Carol made their famous cupcakes and scones. Jeannie even bought toiletries from Marie Curie to sell on the day.
Jeannie's sister Anne, from Ambleside, sadly passed away on Christmas Day, just three weeks after being diagnosed with an aggressive form of cancer in her liver and kidneys.
She had only been at the Marie Curie Hospice for a week before she passed away, but her family were so impressed with the way she was cared for and how the family were treated that Jeannie had decided to do something to show their support.
Anne was very well known and was always doing a kind deed for others," said Jeannie.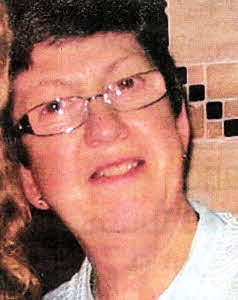 Anne Mitchell
"When it snowed she went round Lillie Court, where she tended our elderly Aunt every day, asking other residents if they needed anything so that they would not have to go out.
"Her favourite phrase to me when she got anything I needed and I wanted to repay her she would simply say 'you don't pay for anything twice' or 'they were giving those away for nothing.'
"Such was her nature and it was in evidence by the fact that about 400 people attended this gentle, loving woman's funeral.
"She received such kindness in the Marie Curie Hospice that she really deserved.
Jeannie• was very close to her sister and decided on a coffee day which was announced at the the local churches Emmanuel Baptist Church, Magheragall Parish and Magheragall Presbyterian Church.
"I wanted to raise funds for Marie Curie since my sister passed away," said Jeannie.
"Because of my condition - I suffer from an epilepsy type condition and use a wheelchair - but I am not wheelchair bound - I cannot do a swim-athon or do a walk so I decided I wanted to hold a coffee day.
"Everyone was so supportive. I had people dropping by the house handing in £20 and even after the event was still receiving donations and some people even dropped money through the
letterbox.
"At one stage of the day I opened an envelope with £80 in it. I was speechless at how generous people were.
"The day itself was busy and there were times that you just could not move in the lounge. I would have been pleased just to get £200 so to get over £600 has been marvellous.
"The generosity was just overwhelming.
"I didn't know much about Marie Curie before but I now wear my daffodil symbol with pride all the time."
Jeannie has now contacted the charity and volunteered her services at Marie Curie for office work or anything that needs to be done.
On April 17 she will be collecting for the charity at a local filling station along the Hillsborough Road close to Lagan Valley Hospital, collecting outside for two hours in her wheelchair from 11.30am to 1.30pm. Jeannie's brother in law, Anne's husband Nevine held a swim-athon for Marie Curie recently and raised £700.
Ulster Star
16/03/2012