JOHN LEWIS BELFAST MOVE A `NON-STARTER'
by JULIE-ANN SPENCE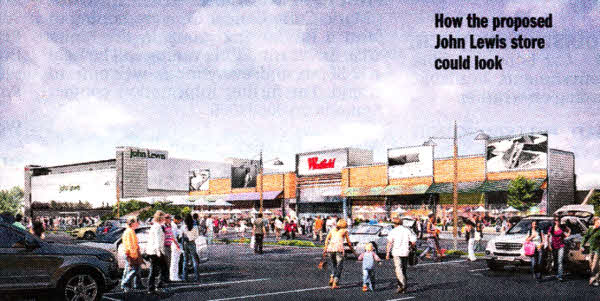 How the proposed John Lewis store could look
LAGAN Valley MP Jeffrey Donaldson has said the suggestion that John Lewis could locate to Belfast is a "non-starter".
This week the go ahead was given for the redevelopment of Royal Exchange in Belfast, with suggestions that John Lewis could set up its first Northern Irish store as an anchor tenant in the new city centre complex.
The application for the John Lewis development at Sprucefield has been stuck in the planning process for a number of years and a public enquiry into the scheme is scheduled for early next year.
There has been strong opposition to the scheme, particularly by traders in Belfast and Craigavon. However, Mr Donaldson, who has been in close communication with John Lewis over the years, has said the, company "remains committed" to Sprucefield as a location for their flagship store.
"The suggestion that John Lewis might go to Belfast, as far as I am aware, is a non-starter," said Mr Donaldson.
"In all the contact I have had with the company, they have made it absolutely clear the only viable option for them in Northern Ireland for their flagship store is at Sprucefield.
"It is not only their intention to provide a store but also to provide an all-island distribution centre at what is a key intersection on the Al Belfast to Dublin road."
Mr Donaldson continued: "As far as I am concerned John Lewis remains committed to Sprucefield and Belfast has opposed this all the way and they have not endeared themselves to the company.
"The idea that John Lewis would now do a u-turn and open in Belfast is unrealistic.
"It is time Belfast and other areas recognise that there is a real benefit to Northern Ireland of having John Lewis at Sprucefield because it will attract hundreds of thousands of shoppers from across the border, who will then go on to shop in Lisburn, Belfast, Craigavon and other areas.
"If opponents of John Lewis at Spruce-field continue with their campaign then NI PLC will be the loser and the public will be very unforgiving about that.
"However, I remain confident that John Lewis are committed to Sprucefield and we await the public enquiry, which will hopefully will give the green light for this much needed development," he concluded.
julieann.spence@ulsterstar.co.uk
Ulster Star
07/09/2012