Lisburn girl says `Take Me Out'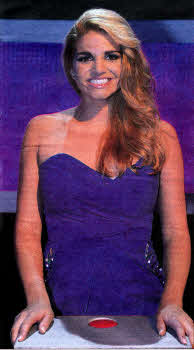 Jordan Humphries, hoping to find Mr Right on ITV show Take Me out.
A STUDENT teacher from Lisburn searching for Mr Right will appear this weekend on hit ITV show 'Take Me Out'.
Jordan Humphries, 21, who is studying primary education at Stranmillis College jumped at the chance when an opportunity to appear on the series, which features 30 single women from across the UK seeking the right single guy to 'take them out'.
Paddy McGuinness is the irrepressible host who helps make a dating match, and has coined the well-known catchphrase 'no likey, no lighty'.
Talking about her experience on the show Jordan said: "The feeling I got walking down those famous stairs on the first show was indescribable. The music was pumping, the audience were going nuts for the reveal of the new 'flirty 30; our hair and make-up was all beautifully done and I was completely buzzing. I could have left the show there and then and still have had the best experience ever."
Asked if she got on well with her fellow contestants Jordan said: "I have made friends for life on the show. We literally live in each other's pockets 24/7 whilst filming so you get really close. We all text and call each other non-stop saying how much we miss each other now. They are just a lovely, genuine, beautiful bunch of girls."
Speaking about the host of the show Jordan described him as "absolutely lovely, a total gentleman and really chatty and friendly with all the girls. And so handsome in real life."
Jordan can't wait to watch the series which will start at 7pm on ITV1 in Saturday. She said: "Watching the show back will be amazing - like watching home videos of you and your mates having a fantastic time. I am so excited for my family and friends to see the series and to watch me and the girls make fools of ourselves (in a nice way ). The whole show is very light-hearted, we're just there for a laugh and a great experience.
I just hope that I didn't say anything too stupid because I'm a bit of a goofball and you tend to get caught up in the moment and then afterwards think "did I really just say that?" As long as all my friends enjoy it I will be happy."
Appearing on the show has given Jordan a taste for working in front of the cameras. She said: "Take Me Out was, hands down, the best experience of my life. The only complaint I have is that it had to end. I met amazing friends, got treated like a star, had a real laugh on stage and absolutely loved being in front of the camera. It has made me seriously consider a career in TV"
Ulster Star
05/10/2012