Year in the States `once in a lifetime opportunity'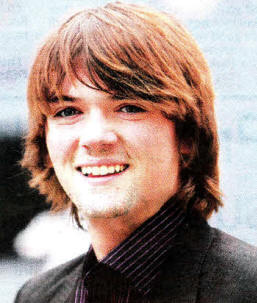 Jordan Whyte
A LISBURN business studies student has returned from what he describes a being a "once-in a-lifetime experience" at an American University.
Jordan Whyte who attends the Lisburn Campus of SERC was invited to attend Waynesburg University, Pennsylvania, after being accepted through the 'Business Education Initiative', run by the British Council-now called 'Study USA'.
Speaking about his time in the United States Jordan said: "I was required by the program to study business and I had to achieve a grade point average of at least 3.0- on a 4 point scale across a minimum of 30 credits (24 business & 6 elective), as well as making 6 presentations in promotion of Northern Ireland. I finished up with 31 credits and a GPA of 3.86 in my first semester with a 4.0 in my second semester."
Outside of the classroom Jordan was a member of both the Concert Choir and Touring Choir. He said: "I was part of the improvisational comedy group, a member of the international club and I was cast in the university's annual play."
He continued: "I got to visit Washington DC as part of an educational trip to the Holocaust Museum, as well as various other significant tourist monuments. In the spring semester I was selected to represent WU in an All-Star college choir' in Pittsburgh where I got to sing with the Pittsburgh Symphony Orchestra under the direction of the award winning Broadway and Hollywood composer Marvin Hamlisch.
"At the end of the year I got to go on tour with the touring choir to Hershey, PA where we put on a number of concerts in various churches, schools and other venues including the incredible Milton Hershey School for children with extreme financial and social need."
Jordan added: 'After the academic year was over I was able to get my visa extended to allow me to. spend time travelling and staying with friends that I met during my time at Waynesburg University.
"I was fully aware that the whole experience in itself was a once-in-a-lifetime opportunity not to be taken for granted. I worked with teachers who became friends, and made friends who became family. I regarded all that took place inside and outside of the classroom as a lesson, and I was able to watch myself go through a process of growth, learning and personal development. Experiences like this can teach you things you mightn't learn any other way, and it can change you in ways you couldn't imagine. I don't believe that there is a scheme that can match the BEI experience and I would wholeheartedly recommend it to anyone."
Jordan says he has learned a lot form his year away. He said: 'All in all I have learned an unspeakable amount during my time in the United States, much of which can't be expressed through words — only through my actions since I will approach circumstances in slightly different ways to that which I would have done a year ago. I have grown in terms of my knowledge and understanding of business, the American culture and way of life, but more importantly as a person too.
The extent to which this year has influenced me will only really be seen in time to come, but speaking from where I am now, I think I can safely say that it is a lot, and hopefully all for the better."
Ulster Star
06/01/2012