Murder of 20-year-old worker remembered 25 years on
by JENNY MONROE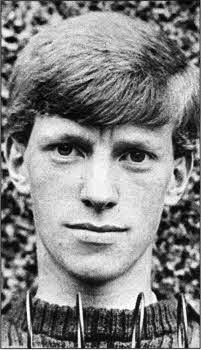 Joseph Mcllwaine
THE sister of a young Lisburn Council worker who was murdered 25 years ago at Aberdelghy Golf Course has thanked the councilor marking the anniversary with a service and wreath laying on Sunday.
Members and guests from the council gathered at the Civic Centre to pay their respects to Joseph McIlwaine, who was just 20 when he was murdered by the IRA while working at the golf course in Lambeg in 1987.
Mr Mcllwaine was a serving member of the UDR at that time and, the council said, was serving the whole community.
Joseph's sister Janet Hunter said the service was an emotional occasion for the family.
"It was a good healing point for my family including my parents Annie and Joe who lost their only son" Janet said. "We were totally amazed at how the council pulled all the stops out."
Joseph was the only Lisburn Borough Council employee murdered at work during the Troubles.
It was an emotional day but very appreciated by the family," explained Janet.
"Many people say 25 years is a long time so move on, all I can say to those who think like this is give me back my brother and all will be past and forgiven. This is real life not a film or game where you can change the end or replay. We only have one chance at life and for anyone to decide someone is to die for a cause or for any reason is wrong." Following the service there was a private wreath-laying ceremony at Aberdelghy Golf Course, in the presence of members of Mr Mcllwaine's family, the Mayor of Lisburn, Alderman William Leathem, members of Council and the Chief Executive, Mr Norman Davidson.
The Mayor said it was a poignant occasion.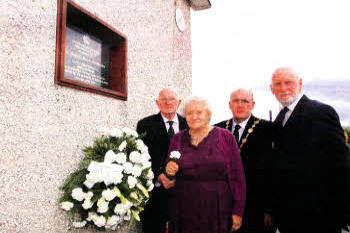 Joseph's parents Annie and Joe Mcllwaine at Sunday's wreath-laying ceremony with the Mayor, Alderman William Leathem and Lisburn City Council Chief Executive, Mr Norman Davidson.
"There are Council Officers here who knew Joseph in 1987. We gathered to pay our respects to Joseph, who was only 20 years old when he was murdered."
Mr Leathem said they were very pleased to welcome Joseph's family and particularly his parents.
The Chief Executive, Mr Norman Davidson, spoke at the ceremony and said: "We are proud to remember Joseph as one of our employees, and *ho was so tragically murdered. The significance of what happened to Joseph has not been forgotten and we were proud to host this Memorial Service with his family."
Janet thanked the Mayor and all the councillors and in particular local MP Jeffrey Donaldson, Alderman James Tinsley and Mr Davidson for his 'very kind words of comfort for the family'.
"Thank you to all the UDR friends and colleagues, to the UDR Major who spoke so well and drew an accurate picture of Joseph. The UDR have been a great support to us over the years. Thank you for being with us and supporting the family in what was a special service remembering our lovely warm hearted son and brother, Joseph." Janet continued: "I know there were many people in the Council who made the day run smoothly and who did the bulk of the organisation beforehand. I may not know your names but I can say thank you."
jenny. monroe@ulsterstar.co.uk
Ulster Star
15/06/2012