Beautician's shock heart diagnosis at 29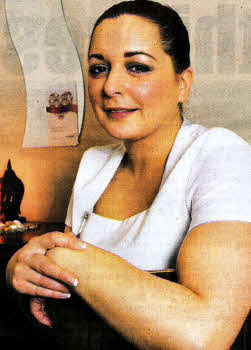 Kara Lynn Poots of Karan Francis Health and Beauty Clinic US0512-405PM
A MOIRA beautician who was given a second chance after life saving surgery in September is urging people to wear something red on February 25 as part of Heart Month. Kara-Lyn Poots (31) who runs her own business, Karan Francis Health and Beauty Clinic in the village, suffers from a disease of the heart muscle called cardiomyopathy.
She was just 29 when she was diagnosed with the condition. She had begun to have dizzy spells and visited her GP who sent her to Belfast City Hospital where she completed a series of tests and was diagnosed with the potentially deadly condition.
Her irregular heart rhythms meant surgery to fit an internal defibrillator (ICD) was the only answer.
She had the surgery in September when the device was placed under the skin, with leads that connect the box to the heart through a vein. It monitors and stores information about your heart rate and rhythm and can also defibrillate (shock) the heart if the device senses a dangerous rhythm to return the heart rhythm to normal. Such a serious heart condition at just 29 shocked the otherwise fit and healthy Kara-Lyn.
"Like many people I thought heart disease was something that older people developed — not something that affects people at my age" she said.
Although her father died of a heart condition at 41, when Kara Lyn was only 11, she was told their heart conditions were essentially unrelated.
"My father's cholesterol was high and he died from coronary heart disease" she explained.
Kara-Lyn was determined not to let the condition hold her back and persuaded doctors to allow her to continue to horse ride daily.
"They were reluctant at first because obviously they didn't want the device to get damaged if I fell or anything. That could have led to more surgery, but I had been horse riding for such a long time persuaded them I wouldn't do anything foolish."
Kara Lyn continues to lead a healthy and normal life.
"The device is like a safety net which will help regulate my heart," she said. "I have to be careful. I can't run a marathon or anything and I've been told to stay away from microwaves as the rays damage the device. The alarm system in many shops can also damage it. So I cannot stand around too close near the door of shops. But it's only these small things you have to bear in mind.
"The device definitely gives peace of mind and instead of getting tested five or six times a year I only have to go once. I have been told I'll have to have surgery every seven years to have it replaced but that's not a problem.
" Kara-Lyn continues: "I feel it is really important that local people find out more about heart disease and get involved m raising money for such an important cause.
"Raising much needed funds will help BHF Northern Ireland care for people with heart disease, support their families, campaign on their behalf and fund pioneering research to save lives."
This year members of the Maze FC have volunteered to take part in a sponsored waxing. Last year she raised money from a Beauty Night.
For more ideas and tips on how to go Red for Heart on the BHF's website at www.bhf.org.uk/red and to order a free Red for Heart fundraising kit call 0300 330 0645. Gary Wilson, Fundraising Volunteer Manager. at BHF Northern Ireland, added: "Most of us know someone affected by heart disease - that's why we're asking everyone to go Red for Heart and raise funds," he said.
Ulster Star
03/02/2012