Lisburn student to spend summer helping leukaemia research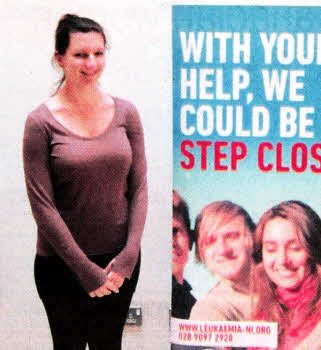 Kathryn Millen
A LISBURN student at Durham University will be spending her summer holiday researching the causes of leukaemia.
Kathryn Millen is studying for a degree in Biomedical Sciences and has been awarded one of four special summer studentships by the Northern Ireland Leukaemia Research Fund (NILRF) to undertake an eight week research studentship with the Haematology Research Group in the Centre for Cancer Research and Cell Biology (CCRCB) in Belfast.
The Chemistry department have developed a number of small molecule inhibitors that target members of the WNT signalling pathway. This has been identified as being an important pathway in sub-types of leukaemia. Kathryn will test these novel inhibitors against a panel of myeloid leukaemia cells testing for activity and effect. She will be supervised during her project by Professor Ken Mills.
The experience that Kathryn will gain during the summer will not only contribute to the world-class research in the CCRCB, but will also benefit her final year when she will be taking a module on haematology.
The Leukaemia Research Group is based in the Centre for Cancer Research and Cell Biology (CCRCB) on the Health Sciences Campus near to Belfast City Hospital, and is part of Queen's University Belfast. The research group consists of three professors, two other principal investigators, two clinical scientists and 22 younger scientists and post-graduate students training to be the research leaders of the future.
Professor Ken Mills, Lead of the Leukaemia Research Focus Group in the CCRCB, said "this innovative package of summer research studentships demonstrates that the NILRF is committed to training the leukaemia research scientists and doctors of the future to ensure that Northern Ireland is at forefront of global leukaemia research."
The Northern Ireland Leukaemia Research Fund (NILRF) was founded in 1964, has raised over £7 million to date and is proud that the money raised in Northern Ireland, stays in Northern Ireland to fund leukaemia research. Mr Bill Pollock, Chair of the Northern Ireland Leukaemia Research Fund, said: "we are proud and privileged to support a dedicated team of investigators and scientists who are at the cutting edge of research into the causes and cure of leukaemia in Northern Ireland. The enthusiastic fundraising in our Branches across the Province, together with the generous support of relatives and friends of patients affected by leukaemia, is much needed and appreciated."
For further information on the activities supported by the NILRF and how you can help, please see our website, www.leukaemia-ni.org or contact our fundraising team on 028 9097 2928 or email admin@leukaemia-ni.org
Ulster Star
13/07/2012