Lisburn man to host Titanic event for cancer charity
by STACEY HEANEY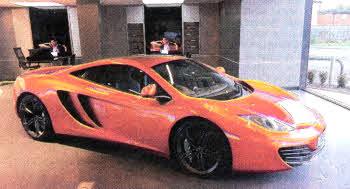 The brand new McLaren MP4-12C road car will also be unveiled for the first time in Northern Ireland at a charily ball for the Ulster Cancer Foundation
LISBURN'S Keith Liggett is the man behind the first charitable event to be held at Northern Ireland's newest iconic landmark — Titanic Belfast.
Keith a director of Belfast-based Legacy Wealth which is hosting a spectacular gala ball at the venue on Saturday, April 28, to raise funds for the Ulster Cancer Foundation.
And to make the event even tastier, the brand new McLaren MP4-12C road car will be unveiled for the first time in Northern Ireland at the ball, courtesy of supercar specialists Ecurie2l (NI).
Keith has already raised cash for UCF by running the New York marathon on his 40th birthday last November and he wanted to do more for the charity.
Singer Brian Kennedy will take centre stage at the glittering Irish themed ball which marks the 100th anniversary of the world's most famous ship.
Compered by TV presenter Paul Clark, the evening will get off to a sparkling start with a champagne reception and include entertainment from the Irish dance troupe Celtic Storm, traditional singers Tully and dancing to one of Ireland's top live bands Electric Avenue.
Guests will be able to bid at an auction for a three-hour supercar experience along the North Coast, thanks to Ecurie 25 NI. And the winner's own car will be spruced up by TV's Top Gear specialist valeting team, Northern Ireland based Total Perfection Valeting.
Keith said, 'As a Director of a company that specialises in helping clients protect their financial affairs, I all too often come across families and individuals coping with the consequences of cancer. Unfortunately employees of Legacy Wealth and their families have also been affected by cancer and sadly a friend and colleague recently lost her brave fight against this dreadful disease.
"She and others had talked about the good work that the Ulster Cancer Foundation does for patients and their families in the local community so I felt drawn to supporting this charity" he said.
I had the idea of organising the gala ball as a way of raising as much money as possible for the charity with the support of our bank of Corporate and Private clients throughout Northern Ireland."
Joyce Savage, UCF 's Head of Appeals and Marketing, said, "This will be the first opportunity for many people to see the amazing facilities Titanic Belfast has to offer. In addition, we have an exceptional line-up of artists for guests to enjoy and hope that everyone will want to join us at this stunning location fdr a wonderful night out."
To book a table or individual seats contact Kirsty Thompson on 9068 0771 or kirstythompson@ulstercancer.org.
stacey.heaney@ulsterstar.co.uk
Ulster Star
30/03/2012