Cancer survivor Keith's marathon challenge for CLIC Sargent
by STACEY HEANEY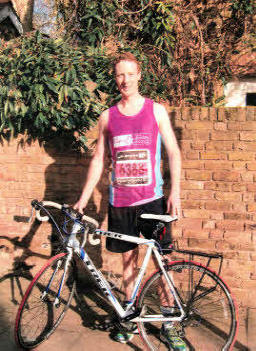 Keith Shorten
LISBURN man Keith Shorten, who survived cancer as a child, is currently undertaking a mammoth marathon challenge to raise funds for CLIC Sargent.
Keith, who now lives in London, had just begun his first year of high school at Wallace High School in 1994 when he was diagnosed with Non-Hodgkins Lymphoma.
Having experienced the help he and his family received from Sargent Cancer Care for Children, a charity now amalgamated with CLIC to form CLIC Sargent, Keith decided he wanted to raise funds for children with cancer as a way of thanking the charity for their support.
However, one marathon wasn't enough of a challenge for Keith, who has already completed the Brighton half-marathon in one hour, 31 minutes. He will also take on the Cambridge half marathon on March 11, before undertaking LeJog, a 900 mile cycle from Land's End to John O'Groats, from April 1-10, before completing the challenge with the London Marathon on April 22.
Keith, a Strategy Manager for Aviva, aims to complete the four challenges in the quickest time possible, undertaking what he describes as the "most physically demanding and mentally draining events," he has ever taken on.
Keith is no stranger to sports having played hockey for Wallace, winning the Schools' Cup, and Lisnagarvey Hockey Club, as well as taking part in the annual Lisburn half marathon, completing the challenge the year following his cancer diagnosis, marking a remarkable turnaround in his recovery.
However, this is an extreme event to undertake, with each of the challenges quite close together.
"It is a big challenge; said Keith. 'I'm sure it'll be a lifetime achievement."
Keith was diagnosed with cancer shortly after he had started life at Wallace. Just a couple of weeks into his first year at the school a lump on his neck was found to be Non-Hodgkins Lymphoma. He spent the next nine months in and out of the Royal Victoria Hospital, while his parents, Janet, who works in the medical profession, and Wilson, a GP in Lisburn Health Centre, spent much time in London speaking to specialists as Keith was suffering from a rare disease.
Speaking about his experience as a child, Keith said: "I missed most of my first year at Wallace. I was in my first or second week of first year when we found a lump on my neck on the Saturday and I didn't go back to school until after Easter; I was just back in time for the exams. "Mine was a rare disease and my parents spent a lot of time in London speaking to specialists about my treatment through to March or April.
"I spent a lot of time at the Royal, where there were so many children with cancer, mainly Leukaemia, but Sargent were very active within that community.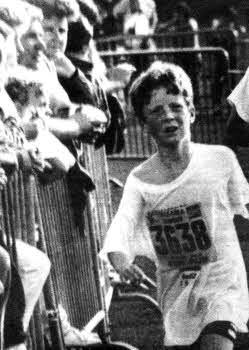 Keith pictured in the Ulster Star completing the Lisburn Half Marathon, shortly after his recovery
"During that time the charity was very helpful. We probably didn't use as many of the services as some did, although I went to Euro Disney with them and did stuff for Children In Need at a house in the Mourns, helping to build the house. I have always planned to do something for them at some point.
"Because of my parents' medical training I was able to spend more time at home than the average person and I was able to keep up with school. My teachers gave me extra tuition and I was able to catch up in the summer so I could join second year, but it was weird going back with no hair and only knowing 15 to 20 people from my time at Wallace Prep, that was probably the hardest bit.'
Speaking about the challenge, Keith said: "I wanted to do something more than one marathon. I've been every year to watch the London Marathon since I've lived m London and I am always inspired by the amount of support people receive. 2012 was definitely another motivation, London is buzzing about the Olympics and this will be the biggest marathon there has been."
Keith has been running 8 miles to and from work each day for the past number of months to train for his challenge, as well as cycling regularly to prepare for the 900 miles he will cycle across Britain when he takes on the challenge with some friends. His mum and two aunts, as well as brothers Tom and Ken will be in London to support him as he takes on the London Marathon, as he attempts to raise as much as possible to support CLIC Sargent.
I had set a target of £1,800 but I am almost at the £2,500 mark with donations from my family and friends, as well as friends of my parents who remember a lot of what my parents went through," said Keith. "Hopefully now I can raise £3,000 or so.
"People have been so generous and that just motivates me more, especially recently when it has been freezing and you don't feel like going out, but then you'll receive a donation and it makes you get the shorts on and go on running.
I'd just like to thank my family and the charity for their support when I was younger," Keith added.
If you would like to donate to Keith's challenge you can do so by visiting
https://www.justgiving.com/KeithShorten-Takesonthe4Challenges
stacey.heaney@ulsterstar.co.uk
Ulster Star
02/03/2012