Keith's marathon challenge raises thousands for CLIC Sargent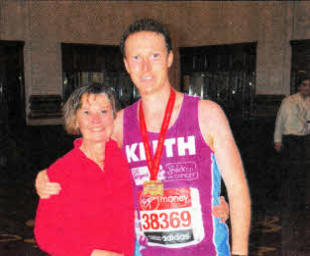 Keith with his mum Janet at the end of the London Marathon.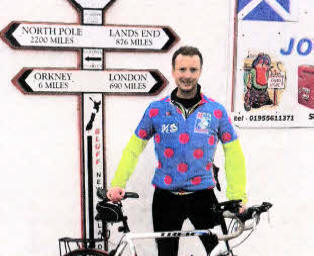 Keith reaches John 0'Groats.
FROM cycling through blizzards to running the London Marathon, Lisburn man Keith Shorten took on an extreme challenge throughout April to raise funds for CLIC Sargent.
Keith, who survived cancer as a child, decided to raise funds for the charity following the support he and his family received when the former Wallace High School pupil was diagnosed with Non-Hodgkin's Lymphoma; and he exceeded all expectations by raising a magnificent £5,900.
Keith, who now lives in London, also completed the Brighton and Cambridge Half-Marathon's earlier this year, before tackling LeJog, a 900 mile cycle from Land's End to John O'Groat's, which took place in April and was completed in what Keith describes as "eight long days", before he then undertook the Virgin London Marathon on April 22, finishing in a time of 3 hours, 12 minutes and 59 seconds.
Keith's family and friends, including mum Janet and brothers Tom and Ken, were there to support him throughout the London Marathon, whilst his father, Wilson Shorten, a GP at Lisburn Health Centre, received numerous donations from his patients when they heard news of Keith's challenge.
"The support I have received has been outstanding," Keith said. "I'd just like to thank everyone for their support, it made such a difference following a long day of cycling to get messages from people.'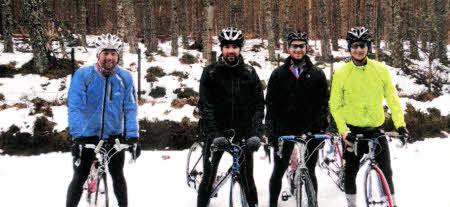 Keith and several friends faced bitter conditions during their cycle from Land's End to John 0'Groats, which saw them cycle through snow and blizzards during the gruelling 900 mile challenge.
Despite the cycle taking place at Easter, with Britain caught in a cold snap, Keith and those taking part with him were forced to cycle through snow and blizzards in parts of the country.
The cycling was very hard," Keith commented. "It was done over Easter when the snow came back to the UK and we spent the time cycling into very strong headwinds. There were blizzards and snow showers over Scotland, which turned 8-10 hour days into 12-14 hour days. It was a lot harder than I expected."
With just ten days rest between the cycle and the marathon, Keith required sports massages from a physiotherapist to help his legs recover.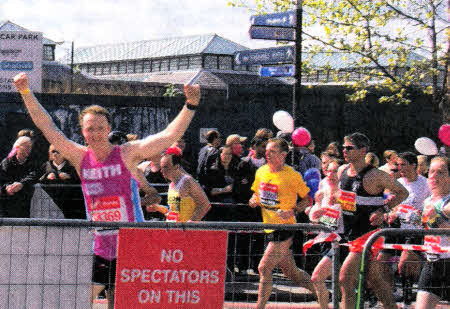 The Lisburn man during the London Marathon.
"I was told my legs were not suitable for running," said Keith."The marathon went very well, I finished in 3 hours, 12 minutes and 59 seconds. There were tears at the end because my legs were in so much pain.
"The first ten miles were fantastic, I had a lot of support from the crowd and spent time
giving high fives to kids. From almost start to finish there were people everywhere, two and three deep, giving us support.
"I had my CLIC Sargent vest on with my name so I was getting more support through that and CLIC Sargent also had three or four posts throughout and as you got closer you would have maybe 50 people screaming at you to keep going.
The last five miles were the hardest thing I've ever done, I just had to try to shuffle to finish," he said.
The hard work has been worth it, however, with Keith raising £5,900 for charity.
"That is a really massive donation," said Keith. "I had support from school friends, family friends, my family and friends in work, as well as my dad's patients, and during the marathon and cycle lots of donations came in, that was great.
My dad gave me a huge donation and also a massive donation from a patient who sadly passed away, which was donated by her family, so special thanks to Muriel Jean Shields Watson, recently deceased, she sponsored £500 via my dad.
It was incredible, my dad had so many patients coming into the Health Centre saying here's a few pounds and things like that. I had a lot of thank you letters to write." Keith added: "I'd like to thank everyone for the support. The support at the marathon was outstanding, from family, friends and people in the street, as well as a lot of support from the charity."
stacey.heaney@ulsterstar.co.uk
Ulster Star
01/06/2012