Lisburn is alive with the sound of music
KILLOWEN PUPILS PERFORM FOR WEST END STAR
by JULIE-ANN SPENCE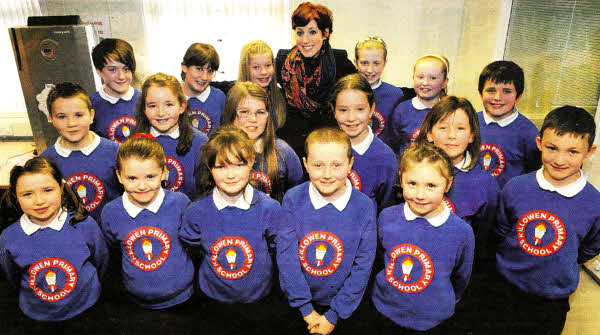 Connie Fisher with children from Killowen Primary School who are producing their own version of the musical at school.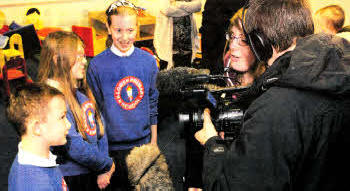 Pupils from Killowen Primary School being interviewed during their visit to Thiepval Barracks last week
LISBURN was alive with the Sound of Music last week when West End star Connie Fisher paid a visit to the city.
Connie returned to Thiepval Barracks and the city she was born in as part of a documentary being filmed for Welsh television.
During her visit she was treated to a performance by children from Killowen Primary School, who are currently in rehearsals for their own production of The Sound of Music, the show in which Connie made her name.
The children, who are preparing to tread the boards in The Sound of Music at the end of March, were thrilled to be invited to perform for the star and were delighted to receive some words of advice from Maria. P7 pupil Zoe Vance, who will play Maria in Killowen's production, said rehearsals for the show had been going well and that meeting Connie had given the whole cast a real boost.
"She was really kind, really nice and friendly," she explained.
Josh Robinson, who will take on the role of Frederick, said everyone was really nervous when they found out they would be singing for Connie.
However, Aaron Doran, who is playing Kurt, said they were pleased with their performances of My Favourite Things, Edelweiss and the Sound of Music. "We sounded good,' he said.
Zoe added that Connie had been impressed with their rendition of the well known songs. "She said it was brilliant and we were all happy with that," she continued.
"She was crying a bit as well and she got emotional good."
Abbey Davidson, who will be playing Leisel in the show, was thrilled to meet Connie in person, after seeing her perform in the Sound of Music when it was staged at the Grand Opera House in Belfast.
"She gave us some advice," Abbey explained: "She told us not to be nervous and to practice a lot."
Emily Williams, who will take to the stage as the Reverend Mother, added: "We all felt more confident afterwards. If we can perform for her we can perform for anyone."
julieann.spence@ulsterstar.co.uk
Ulster Star
17/02/2012