Lisburn rallies round to get Ksenila home
by MARY MAGEE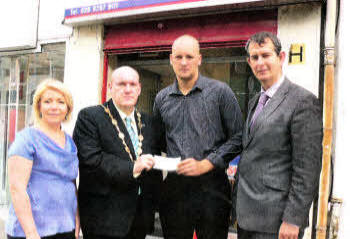 The Mayor, Alderman William Leathem, presents a cheque from the people of Lisburn to Sandis Balins who accepted it on behalf of Ksenija's mother. Included are Mary Magee of the Ulster Star and MLA Edwin Poots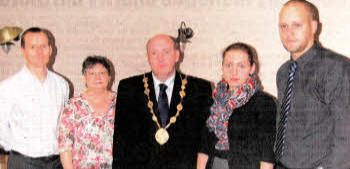 Mayor William Leathern with Sandis Balins and friends of Ksenija's at the event on Saturday
A KIND hearted pensioner gave £1,000 to the Mayor William Leathem last week to help the mother of Latvian born Ksenija Voroslina, who was stabbed at her home at Warren Grove, takes her daughter's body home for burial. It brought the overall total raised by Ksenija's friends and the Lisburn community to have her repatriated to £4,600 and she was buried close to her home on Saturday.
Ksenija's mother used some of the money which people here had raised to buy flowers on behalf of the people of Lisburn.
The Latvian community had started to raise the money and had collected £1,500 but were struggling to gather the £3,500 needed to allow Ksenija's mother to take her daughter's body home with her when local MLA Edwin Poots and the Mayor, Alderman William Leathem, became aware of the situation and appealed through the Star for local people to help. Family friend Sanis Balins had placed baskets at the Latvian and Polish supermarkets around the city which raised £500 and also received numerous anonymous donations. He said he was surprised by donations he received from people who wanted no recognition or thanks. Some simply dropped envelopes through his letterbox.
The Mayor said he was delighted but not surprised at how people across the city had responded.
"We received sums big and small," he said. "It was phenomenal. We had mothers coming into the once. They left in money and said they simply couldn't imagine something like this happening to their child, being left in another country unable to be buried.
"An elderly man who gave us the £1,000 said he was living in comfort and wanted to do something to help. We have been overwhelmed by the generosity. Her mother has got her home and able to give her a burial she so rightly deserves."
Mr Balins, also said he was also overwhelmed by the kindness. "Her mother cannot speak a word of English but she is very thankful," Mr Bdiris said. "She did not believe that she would get help like this. Mr Poots said: 'It is not surprising that the Lisburn people have stepped up to the mark.
"Thus young woman was killed in our city. I felt that it was not appropriate to have her resting in a morgue in another country for months at a time. She has now been repatriated and for a proper burial.
Ksenija's body was flown home last Tuesday and her funeral took place on Saturday.
To mark the occasion and remember Ksenija, members of the Latvian community held a special event at the Baltic Coast Restaurant on Longstone Street on the same day.
Ulster Star
22/06/2012