Mother overwhelmed by Lisburn's generosity
Ksenija Voroslina
THE BODY of the young Latvian woman who was stabbed to death at her Lisburn home two weeks ago will be laid to rest tomorrow in Latvia after people across Lisburn helped her family raise the money to take her home.
Ksenija Voroslina's body was flown home on Tuesday and tomorrow (Saturday) a funeral will be held and she will be laid to rest in her home town.
The mother of the 28-year-old who was killed at Warren Grove, arrived in Lisburn last week but despite the best efforts of the Latvian community here was unable to get enough money to pay for the repatriation of het daughter's body.
They had raised £1,500 but needed the same again. However, once the Star reported the mother's plight last week, donations flooded into the Mayor's office.
Councillor William Leathem said his office had received cash from councillors, staff at the council
and the general public and raised £1200 within days.
And as a result Ksenija's mother will now be able to bury her daughter in her home town on Saturday.
To mark the occasion and remember Ksenija, members of the Latvian community will hold a special event at the Baltic Coast Restaurant on Longstone Street on Saturday at 2 m.
The Mayor said he was delighted but not surprised at how people across the city had responded.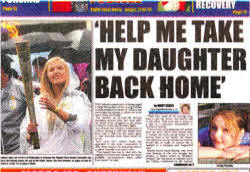 Last week's Ulster Star
We received sums big and small," he said. We will still be accepting money until Friday. There is still a small shortfall but for now there is enough money to take her home.
"I visited her mother and spoke with her and she is of course still in shock and bewildered by what has happened to her beautiful daughter. But she was so overwhelmed by the support. A lot of people including the Latvian community came together to help. She was stunned by people's generosity."
Family friend Sandis Balins, said he was also overwhelmed by the kindness.
"Her mother cannot speak a word of English but she is very thankful," Mr Balins said. "She did not believe that she would get help like this. She thinks what the people have done to help her is really lovely"
Ulster Star
15/06/2012