Poppy's family take a leap of faith for charity
by JULIE-ANN SPENCE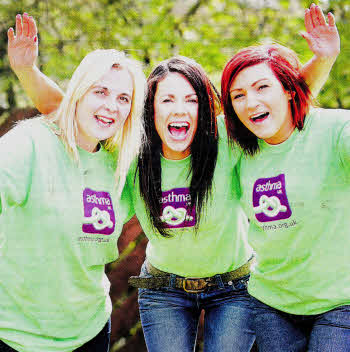 Rhoda Walker, Michelle Laverty and Gillian McAllister getting ready for a sky dive on April 28 to help raise funds for Asthma UK NI. US1612-521cd Picture: Cliff Donaldson
LATER this month the family and friends of Lisburn girl Poppy Laverty will take a leap of faith for charity.
Poppy's mother Michelle has organised a skydive, with friends taking the plunge to raise much needed funds for Asthma UK. The Laverty family decided to Organise a host of different fundraising activities to raise money for the charity that gave them valuable support when Poppy, then just six, was diagnosed was asthma.
The family recently held a successful bag pack at Sainsbury's at Sprucefield, a charity evening and took part in the Lisburn fun run. They are now hoping the skydiving daredevils can raise even more money for the charity.
After many trips to hospitals and GPs, Poppy was diagnosed with asthma two years ago in February past," explained Michelle.
We went back and forth finding treatments which suited Poppy and her form of asthma. She is on three medicines a day and a further inhaler and steroid tablet is kept for bad days or attacks.
Last December Poppy had a series of attacks and although we spent time with doctors nothing they had done could give her any relief. I had been told by our Asthma Nurse to contact Asthma UK & Asthma UK/ Northern Ireland.
I had done this and I phoned the Asthma Nurse Specialist's number, which I had been sent with lots of other valuable information and guidance booklets.
The specialist nurse heard Poppy and told me that she was in a very bad way and that I needed to get her to my GP as soon as possible.
She was very calming and gave me all the terms and information that I needed for the GR Poppy was prescribed her first steroid tablets that day and if it was not for that nurse we could be in a very different situation today.
Poppy's asthma is controlled presently, but as you can imagine we are moving into a worrying time of the year, with high pollen and grass being cut more often," she continued.
"Everywhere we go we make sure we have all required medication and that we try to stay away from high risk areas.
"It shocks me that there is relevant and up-to-date information out there but many people still don't have a full understanding of asthma.
I do believe that many schools and workplaces here in Northern Ireland could benefit from a free information session provided by Asthma UK/Northern Ireland." Michelle continued: "This skydive, the bagpack, the charity evening and the fun run started off as simple fundraising events to say thank you. Now they have become much more than that.
These events mean being able to phone a nurse when I am scared, don't know what else to do and I know they will be there. "They mean assisting the charity which is dedicated to improving the. health and well-being of 5,4 million people in the UK, including our daughter and other relatives," she continued.
"It also means reaching out to other people who have asthma, giving them someone to talk to and I am truly glad to say that I have met quite a few new friends through these events."
If anyone would like to help with the fundraising efforts, Michelle can be contacted on 07514899439.
julieann.spence@ulsterstar.co.uk
Ulster Star
20/04/2012