Lee scores weight loss goal and impresses footballer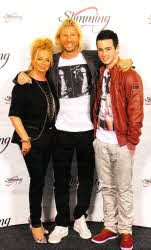 Lee with his Slimming World consultant Liza and Robbie Savage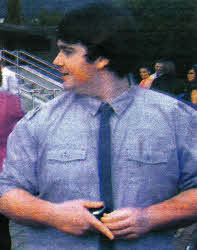 Lee before his weightloss
A 15-year-old from Dunmurry has lots to celebrate after losing 6st 41b to reach the finals of a slimming competition where he met former footballer and sports pundit Robbie Savage.
Lee McCrudden was delighted to make the final 38 in Slimming World's Young Slimmer of the Year 2012 competition, voted through by his fellow members, from all 10,000 Slimming World groups across the UK and Ireland. The competition recognises the enormous achievements of young people aged 15-21 in making long-term lifestyle changes to become fitter, healthier and happier.
One in three children under 16 in the UK is overweight and the problem is growing rapidly. Many are so severely overweight that they're beginning to suffer serious health conditions like Type 2 diabetes and high blood pressure — conditions which would normally be associated with people of their parents' or grandparents' generation, so there is a huge need for healthy lifestyle support for young people and their families. Slimming World worked closely with obesity experts and government advisors to develop its programme for young people.
Lee joined the Dunmurry Slimming World group in November 2011. "I often felt like people were staring at me because I was bigger than everyone else and I've been called names," explained Lee. "My confidence was really low, I knew that I needed to make changes and I knew I needed help.
I went to Slimming World with my brother Johnny. When I first started everyone was friendly and helpful. It was much easier than I expected to start making healthy choices and I soon realised that I didn't need to make drastic changes, just small things like swapping white bread for wholemeal or Coca Cola for Diet Coke made a big difference. The encouragement I got in the group from the other members and my Consultant Liza really kept me going.
By losing weight, I've achieved something that I thought would have been impossible. From here on out, the sky is the limit."
Lee was presented with a certificate and gift for his success in the Young Slimmer of the Year 2012 competition, which was held at Slimming World's head office in Derbyshire on August 5. It was there he met former Strictly Come Dancing star Robbie, who came along to make the day extra special for the young people taking part.
Robbie, who featured on the BBC's Olympic coverage, said: "It's been brilliant being involved in the London 2012 Olympics this summer because it's reminded me of the amazing things that people can achieve when they set their minds to it. I'm equally in awe of the young slimmer's I've met, like Lee, and the way in which they're transformed their lives. Losing weight hasn't just made them fitter and healthier, it's given them self-esteem, often for the first time ever in their lives. For someone so young to set themselves a goal and achieve it like Lee has done is something to be very proud of."
Liza Trainor, who runs the Dunmurry Slimming World group which Lee attends, agrees. She said: "Everyone is so proud of Lee. What he's achieved is so much more than just losing weight. Some young people may have made several attempts to manage their weight without success, often because they've tried faddy diets that leave them hungry and that are just too difficult to stick to in the long run. The changes Lee has made now have given him the knowledge and skills to make healthy choices and new active habits that will stand him in good stead for the rest of his life. Most of all it's given him the self-belief and confidence to achieve his dreams.
"Anyone who wants to lose weight— whatever their age— and wants to know more about the difference that Slimming World can make is welcome to pop along to my group at Beechlawn House Hotel every Monday at loam, 12noon, 3.30pm, 5.30pm or 7.30pm or O'Donnell's Gac, Whiterock, every Tuesday at 10am, 12noon, 5.30pm or 7.30pm, or give me a call on 07788 146944."
Ulster Star
07/09/2012