No decision on John Lewis store plan
by JULIE-ANN SPENCE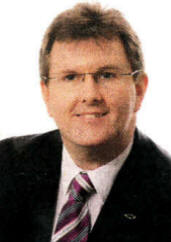 Lagan Valley MP Jeffrey Donaldson.
ENVIRONMENT Minister Alex Attwood's announcement that he will issue decisions on a number of major. planning applications over the coming months will not affect the long awaited John Lewis development at Sprucefield, it has been confirmed.
Despite some reports the scheme would be on the ministers list, Lagan Valley MP Jeffrey Donaldson said that would not be possible because the application was still awaiting a public inquiry. Instead he urged Mr Attwood to use his influence to speed up the inquiry and finally put an end to the long-running saga.
But whilst the John Lewis development will not be considered by the minister, it is expected the controversial chicken waste incinerator at Glenavy will be on the agenda.
Former environment minister Edwin Poots suggested at one time he was minded to approve the scheme, but no decision was ever reached.
Mr Attwood has already announced the go ahead for two long delayed schemes in the Lisburn area - a luxury hotel on the Hillsborough Road and a new cemetery and crematorium in Moira.
And while Mr Donaldson welcomed the minister's announcement he was taking decisions about a large number of other outstanding major planning applications, he said it was unfortunate the John Lewis scheme would not be among them.
"The application is to be the subject of a Public Inquiry which is expected to begin later this year after much delay and legal wrangling by the opponents of the development" the MP said.
"It is disappointing the John Lewis development can't be included in the Minister's decision making process so we need to see the Public Inquiry get underway as soon as possible and I would urge the Minister to use whatever influence he can to ensure this happens.
"There are hundreds of potential jobs and millions of pounds of investment at risk if this delay continues. John Lewis have been extremely patient with the planning process and it is time an outcome was arrived at.
"If our economy is to recover from recession and jobs are to be created then we need this investment. The Minister is right to take the initiative. We must send out a clear message that Northern Ireland is open for business," concluded Mr Donaldson.
julieann.spence@ulsterstarco.uk
Ulster Star
10/02/2011