FAMILY'S SEARCH FOR ANSWERS
COMMUNITY RALLIES ROUND TO HELP LEWIS GO TO GREAT ORMOND STREET
by MARY MAGEE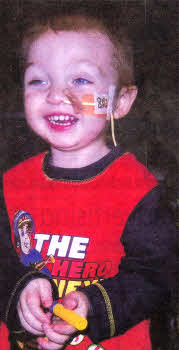 A TWO year old Maze boy with a rare illness is undergoing tests at the world famous Great Ormond Street Hospital this week in a bid to find a cure for the condition that had made him sick up to 20 times a day and having to be fed by tube.
Lewis Walker from Lurganure Road suffers from gastroesophageal reflux which has led to a post-traumatic feeding disorder, severe vomiting, poor weight gain and having to be tube fed.
Doctors at the Royal Victoria Hospital are baffled as to why he is continually being sick. They believed they had cured the condition following an operation last year, but hopes were dashed when six weeks later Lewis began being ill again.
He was so sick last year that doctors made the normally unheard of decision to repeat the five hour operation, a fundoplication stomach wrap . It was performed just a few weeks ago
on March 8.
Parents Jennifer and Neil have been told that if this operation does not help there is nothing else they can do as the same operation would be too risky to perform a third time and the family may have to live with the fact that Lewis could have to be tube fed for the rest of his life.
The youngster's condition began when he was just a few weeks old and Jennifer noticed he was refusing his bottle. Even an ounce of milk would make him violently sick and he was clearly in a lot of pain. He was sick up to 20 times a day.
Six weeks after the first operation Lewis began being sick and was in a lot of pain. His weight plummeted and in November he was taken into hospital for two months. He was allowed out on Christmas Eve and the repeat operation was performed on March 8.
Doctors at the Royal say they have exhausted all avenues so Jennifer hopes Great Ormond Street can finally find a cure.
"His development has been fine every other way," said Jennifer. "We had high hopes his first operation would be a success but after six weeks he began being sick again. It was devastating.
"We hope the last operation is a success but we are almost afraid to say. It is still too early to tell.
His weight gain is still poor, he is lighter now than he was a year ago.
"Because he is continually being tube fed his speech has been affected but his development has been fine every other way"
The mother of two other children - James (4) and Christina (11) - fears tests at the world famous Great Ormond Street Hospital may not yield any answers.
"Lewis has spent two years living with this and we have missed out a lot on family. life," she said. "It has affected the whole family but we are here in the best hospital there is. Jennifer and Lewis are expected to remain at Great Ormond Street until next week where they hope to fly home to be with family and friends.
Recently the community has been rallying round the family and over £8,300 was raised to help with the costs of taking Lewis to London.
Jennifer and Neil set up a fundraising committee and a social night and a raffle were held with the help of family, friends and businesses. All the money will go towards the trips to London.
Local assembly member and Health Minister Edwin Poots attended the draw to select the winning tickets in the final fundraising event and to present the cheque for £8,300 to the Walker family.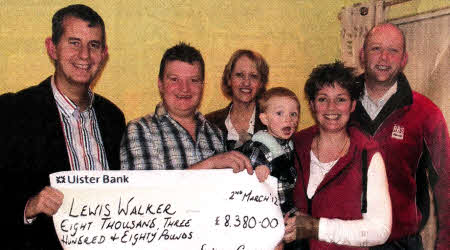 After making the draw for the winning raffle ticket, Edwin Poots MLA, the Minister for Health (left), presents a cheque for £8300 to Neil, Jennifer and Lewis on behalf of the Fundraising Committee, represented by Ervin McKInstry from Genus ABS and Lynne McCabe from Fire Defence.
Jennifer said: "We have been deeply touched by the lovely messages and generosity and would like to thank everyone for their generous donations.
"All the support and gifts from local businesses have enabled us to raise funds for his trips to London."
Dad Neil, of V. Walker and Sons Fuels, who runs a busy beef and sheep farm said: "The fundraising night was a great success and we had great support from everyone.
"The ballot and auction had lots of prizes from fiends and local businesses which enabled us to surpass our original target and raise £8300. We are deeply grateful to all those who contributed in any way."
Ulster Star
23/03/2012