Lewis's family playing a 'waiting game'
RESULTS FROM LONDON TESTS DUE BY END OF THE MONTH
by MARY MAGEE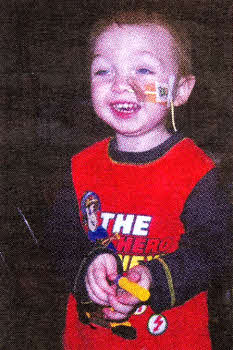 Lewis Walker
THE FAMILY of a little Maze boy who is suffering from a rare condition which can make him sick up to 20 times a day say they are now waiting for test results which could find answers to their son's illness.
Little Lewis Walker from Lurganure Road suffers from gastroesophageal reflux which has led to a posttraumatic feeding disorder, severe vomiting, poor weight gain and having to be tube fed.
His condition has baffled doctors at the Royal Hospital for Sick Children and has had two stomach operations to stop him from being sick up to 20 times a day.
Lewis and his mother spent eight days in March at the world renowned Great Ormond Street Hospital having tests and a biopsy done. They could receive results by the end of the month.
Doctors at the Royal believed that they had resolved the condition with an operation last year but hopes were dashed when six weeks later Lewis began being ill again.
He was so sick last year that doctors made the normally unheard of decision to repeat the five hour operation, a fundoplication stomach wrap.
Parents Jennifer and Neil were told if that operation in March did not work and Lewis began feeling sick again there was nothing more they could do for him.
At first he seemed to be doing well but the family's worst nightmare came to reality when out of the blue Lewis began vomiting once again last week. What little weight he had gained since the operation he lost. However, the situation has now stabilised.
"We were on a downer when Lewis was so sick again for two days last week. He has not been sick since last Wednesday so we are hoping that it was just a stomach bug or something that he had picked up."
She said Lewis is also suffering a bit of cold now, causing further worry.
"This will be the first cold he has got since his operation," said Jennifer.
"The next 24 hours will tell."
Regardless of the results from London Lewis will still have to meet with his consultant and the surgeon who carried out the operation at the Royal in the next few weeks.
"It is just a waiting game for us now," said his Jennifer. "They have told us that if they find anything from the tests we will be called back to the hospital in London. They don't want to give us results from all the tests in bits and pieces but give us an overall picture. If nothing out of the ordinary is found the results will be given to the consultant."
She said that the family including their other children James (4) and Christina (11) were able to spend some quality time together over Easter going to Newcastle and for a drive to the Republic of Ireland.
Lewis's condition began when he was just a few weeks old and Jennifer noticed he was refusing his bottle. Even an ounce of milk would make him violently sick and he was clearly in a lot of pain. He was ill up to 20 times a day.
Ulster Star
13/04/2012