Still no answers to Lewis's mystery illness
by MARY MAGEE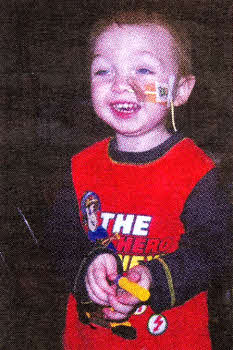 Lewis Walker
LITTLE Lewis Walker will turn two today (Friday) with his family facing an agonising wait for more results to try and find a solution to the illness which has dogged his young life.
Jennifer Walker, from Lurganure Road whose son suffers from gastroesophageal, says the condition which has led to a posttraumatic feeding disorder, where up until recently suffered from severe vomiting, poor weight gain and seeing him been tube fed since he was just weeks old, continues to baffle doctors.
Lewis had extensive tests and a biopsy at the world leading Great Ormond Street children's hospital in March. However, the recent results found little to indicate the source of the problem.
All that was found was that he is anemic, which was already known, and he has an allergy to plasters. They also found a cyst in his colon which is something Jennifer was told not to be worried about.
Doctors at the Royal Hospital for Sick Children now plan to do tests. Lewis's condition means he has already had two stomach operations to stop him being sick up to 20 times a day. Doctors took the unprecedented decision to do a second operation earlier this year in a last ditch attempt to halt the sickness.
Jennifer said the only saving grace at the moment is that the repeat operation on his colon has stopped Lewis from being sick. However he is still tube fed and still shows no signs of eating..
He will take a little piece and will toy with it in his mouth but then spits it out," she said. "Tests at Great Ormond Street may not have shown anything but we had to try. It is one of the best children's hospitals in the world and he has had every test done.
"We were told they have only seen one other case like this and there is nothing more they could do."
"The staff of the Royal and Great Ormond Street have been marvellous but I'm disappointed that something was not found," said Jennifer. "We did not have high hopes and we were told not to expect a lot. We were warned that we may still be left with questions. I don't know if we will ever
get an answer.
"If he was not developing well then I would worry more, but he has developed well and will start playschool at Christmas.
"He had a party last week along with his brother James, whose birthday it was on Wednesday and they had a party last week. They all had a ball."
The family are now looking forward to a Dream Night. Lewis's consultant gave the family free tickets to go to the Belfast Zoo.
Ulster Star
25/05/2012