Lisburn's forgotten hero remembered in BBC programme
Taken at RAF Nutts Comer in October 1941, the photograph shows Terry Bulloch, then a Flight Lieutenant, with the crew of his Liberator at that time. In the back row, left to right are Sergeant 'Jock' McColl (flight engineer) and Sergeants Hollis, Turner and Miller (all Wireless Operator/Air Gunners). Seated in the front row are Pilot Officer Mitchell (navigator), Terry and Pilot Officer Dear (co-pilot). Jock McColl, from Kircudbright in Scotland, was a trusted member of Terry's crew throughout the war. Tragically, on 21 August 1942, Pilot Officer Dear, who was from Weybridge in Surrey, died when the Liberator of which he was then the captain crashed in the mountains just above Carnlough during the course of a flight from RAF Ballykelly to Nutts Corner.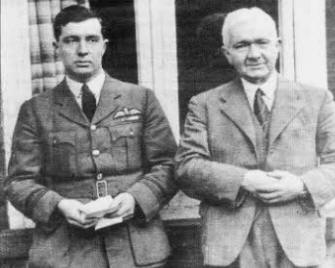 Sqn Ldr Terry Bulloch with his father, Samuel. It was taken at the family home when Terry was on leave at one stage during WW2
HIS recent appearance in the BBC TV documentary Dig WW2, about the role of Northern Ireland in the Second World War, has stimulated interest in a native of Lisburn, Squadron Leader Terence 'Terry' Malcolm Bulloch, DSO & Bar, DFC & Bar, one of the most decorated and celebrated pilots in Royal Air Force Coastal Command in the Second World War.
He was born in Lisburn, in the house then named `Montreagh' at 1 Belsize Road, which is now occupied by the PRAXIS organization and has been renamed 'Parklands'. Terry was the second son of Samuel and Elsie Bulloch, he and his twin sister Yvonne being born on February 19, 1916. Samuel Bulloch was involved in the linen trade and was also very active in the Irish Hockey Union, the Shakespearian Society and the local Reform Club. Samuel's wife, Elsie, was of Huguenot stock.
When Terry was a very young child, the Bullochs went to live in Malone Park in Belfast; later the family home was 23 Ormiston Crescent.
His elder brother, Flying Officer Hugh Larmor McLearn Bulloch was also a member, of the RAF when, tragically, he was killed on January 2, 1940 flying a Wellington bomber with 149 Squadron, Bomber Command on a raid on Heligoland Bight, a personal loss which affected Terry deeply.
Terry Bulloch, like Larmor, was educated at Mourne Grange School, Kilkeel and at Campbell College, Belfast. He joined the RAF in 1936 and was commissioned as a Pilot Officer in May 1937.
By the outbreak of war, he was already an experienced pilot, serving in No 220 Squadron, Coastal Command, based at Bircham Newton in Norfolk, flying Avro Anson aircraft.
Early in the war he was transferred to No 206 Squadron, also based at Bircham Newton, which soon afterwards was re-equipped with Lockheed Hudson aircraft, an American type which w,as hurriedly supplied to the RAF in considerable numbers.
His first tour of operations, during which he shot down a couple of German seaplanes and had numerous successes attacking enemy shipping and ports, was conducted almost exclusively over the North Sea, save for a short period of detachment to RAF Aldergrove to - operate alongside other Coastal Command squadrons carrying out convoy protection and anti-submarine patrols over the eastern Atlantic Ocean.
At the end of December 1940, it was decided that Terry, now a Flight Lieutenant, was due for a 'rest', which actually resulted in his being selected to go the USA to be trained to bring American-built bombers to the United Kingdom by flying them here.
On April 13/14, 1941, he piloted the first Boeing B-17 to be brought across the Atlantic, on delivery to the RAF for use by Bomber Command. Not long afterwards, he was back in the USA, gaining experience on another American type, the B-24 Liberator, one of which he also flew to the UK on June 21, 1941.
In August that year, he returned to operational flying and was posted to No 120 Squadron which was in the process of re-forming at RAF Nutts Corner for the express purpose of operating Liberator aircraft, the first unit in RAF Coastal Command to be accorded that privilege.
Terry's experience of American aircraft was put to good use in helping fellow pilots without previous experience to convert to the type as well as in operational flying. Whether by coincidence or design, the fact is that during Terry's time as a member, there were several Ulstermen in 120 Squadron, including pilots Brian Bannister, Eric Esler and Jack Harrison, who became its Commanding Officer in July 1942, succeeding Vincent McBratney who, although he was born in Cork, had been resident in Northern Ireland from the age of seven when the McBratney family felt compelled to move to Northern Ireland around the time of partition.
It was with No 120 Squadron that Terry began to develop new techniques of attacking U-boats, to the extent that the Coastal Command Operations Manual was eventually re-written in some significant respects, drawing upon his knowledge and expertise. Subsequently, he was transferred to additional squadrons within the Command and by the end of the war was officially credited with the destruction and damage of more U-boats than any other pilot.
The precise circumstances of some U-boat losses will for ever be a matter of dispute. Unquestionably though, Terry and his crews can be credited with sinking at least four and severely damaging several others.
He destroyed his first, U-597 which sank in mid-Atlantic with the loss of all its crew on October 12, 1942, when flying Liberator AM929 of 120 Squadron out of Reykjavik airfield in Iceland where he had been posted in command of a detachment of 120 Squadron from RAF Ballykelly, to which base the squadron had recently been transferred from Nutts Corner.
He destroyed his last, U-514 in the Bay of Biscay on July 8, 1943, when flying Liberator BZ721 of No 224 Squadron based at St Eval in Cornwall, using his full complement of weapons, i.e. 12 rocket projectiles, a new and highly secret projectiles, torpedo and eight depth charges.
Terry's Flying Log Book indicates that, by the end of the war, he had completed 350 operational missions and had 4568 flying hours to his credit, 1721 of them on B-24 Liberators. This aircraft type, designed and built in the USA, was far and away the most effective anti-U-boat aircraft in Coastal Command's armoury.
So far as operations from Northern Ireland airfields were concerned, Liberators destroyed more U-boats in total than all other aircraft types combined, including Sunderlands, Catalinas, Hudson, Wellingtons and Whitleys. During the war, Terry was based at various airfields throughout the UK and beyond, the most significant being Bircham Newton, Nutts Corner, Ballykelly, Reykjavik, St Eval and Tarn.
After the war, Terry joined British Overseas Airways Corporation (BOAC) with whom he soon became a Senior Captain and continued to set more records - for fastest crossings of the Atlantic - until his retirement, by which time he had flown more than six million miles and, post-war, crossed the Atlantic 1113 times.
Now retired and aged 96, he lives with his second wife Linda just outside London. Until recently at least, he was playing golf on a fairly regular basis, despite chronic back problems, a consequence, he said, of the many hours he spent at the controls of a Liberator, the aircraft type he favoured above all others.
To see a replica display of Terry Bullock's medals, and learn more about this most remarkable man, why not visit the Ulster Aviation Collection at Maze/Long Kesh? To make arrangements, contact Ernie Cromie at 079 7450 2319.
Ulster Star
08/06/2012