Linen exhibition explores Lisburn's links with Quebec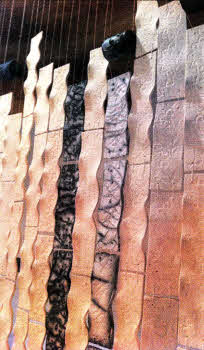 One of the works by Janine Parent which will be on display at the exhibition
A NEW exhibition explaining how Lisburn became central in textile development and linen industry is to open in the city this weekend.
Linen Diaspora will take place at the R Space Gallery in Castle Street and explores the close links between the French speaking province of Quebec and Northern Ireland.
It has been organised by Professor Karen Fleming of the University of Ulster to coincide with August Craft Month. Professor Fleming put together a larger version of the exhibition last year when she became the first non Canadian to curate a show at the prestigious Biennale Internationale du Lin de Portneuf in Quebec.
The exhibition of contemporary work brings together makers from Canada and Northern Ireland and focuses on materials and processes related to flax production that are embedded in the culture of both countries.
This shared textile culture began when the Huguenots fled to Ireland from their native France in the 17th century to escape religious persecution. They brought with them their expert knowledge of weaving, which had a huge impact on the linen making industry. Thousands more made it across the Atlantic to North America and a •similar surge in linen making took place in the province of Quebec.
Professor Fleming said: "In Ireland, Lisburn was a centre for that development. The Huguenots had far sighted strategies and it led to a huge exponential increase in weaving in Ireland. They also went to Quebec where they have a very similar linen culture," she said.
The links between the two areas strengthened in the 19th century when the famine boats began arriving in Quebec and other parts of Canada.
"The Famine is a huge phenomenon in Canada. It is now quite a badge of honour if your family adopted an orphaned child off the famine ships that came from Ireland," she said.
The exhibition will show works by Liz Nilsson, Susan Warner Keene, Rachel O'Neill, Carole Frève, Janine Parent, Marie-Claude Morin, Pierre et Marie, and Suzanne Paquette.
Linen Diaspora opens with a special preview on July 28 from 12 to 2pm and runs until August 31. The gallery is open from Wednesday to Saturday from 11 am to 5pm.
To find out more information about Linen Diaspora or other events around August Craft Month, go to www.craftni.org.
The R Space Gallery website can be found at https://www.linenroomslisburn.com/
Ulster Star
27/07/2012