Lisnagarvey Operatic Society hit the high notes in awards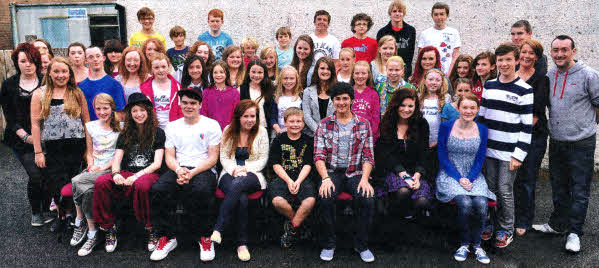 The cast and crew of Lisnagarvey Operatic Society's rendition of Oliver!
US3412-406PM Pic by Paul Murphy
At the recent Association of Irish Music Societies awards Wilfie Pyper won Best Director for The Sound of Music and Titanic whilst Gillian McQuade received a best actress nomination for her role as Maria in the Sound of Music US3412-407PM Pic by Paul Murphy
FOLLOWING its sell out spring show Lisnagarvey Operatic Society's production of 'The Sound of Music' has featured among the Association of Irish Musical Societies (AIMS) awards and nominations.
Considered to be the 'Oscars' of Ireland's amateur musical theatre scene the Society's director Wilfie Pyper won the Best Director award and, for her outstanding performance as 'Maria, Gillian McQuade won runner-up in the Best Female Actor category both in the 'Sullivan section of the awards.
This was Gillian's third runner-up award in recent years and to add to his 'Sound of Music' success Wilfie also picked up the Best Director award for Belfast Operatic Society memorable production of 'Titanic' in the Gilbert' section.
Everyone connected with Lisnagarvey is delighted with their success.
Meanwhile, following on from its annual summer workshop the Lisnagarvey Youth Society will be presenting Lionel Bart's ever popular musical 'Oliver' based on Charles Dickens's Oliver Twist.
The show, which will be directed by Simon Pyper with musical direction by Geoffrey Cherry, will be staged m the Island Hall on August 30 and 31.
Last year the Society showcased the talents of our young people in a very successful Showstoppers concert and now they are brought together again in this iconic and fun filled show which has all the elements of acting, singing and dancing.
Tickets for Oliver, priced £9 are now on sale now from the Island Hall box-office on telephone 028 92509254 or online at www.tickets.lisburncity.gov.uk,
Ulster Star
17/08/2012