Little Rex helps cope with loss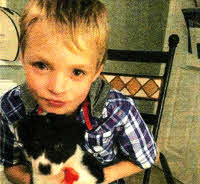 Jake and Justin Agnew will never forget Codie but puppy Rex will help them cope with their loss.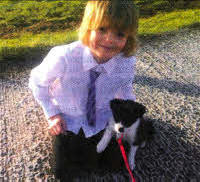 THE family of Codie, the collie who died after being set on fire in Maghaberry, say a rescued pup is helping them cope with their loss.
The Agnews have named their new pet Rex, another collie, who was one of eight puppies found abandoned in a box in Banbridge.
The family were hesitant at getting another dog after what happened to Codie but when they were contacted by the Dog House Sanctuary in Banbridge to say that collie pups needed a home, they decided it was the right thing to do.
Natalie Agnew said the newest member of the family is settling in well.
She explained the choice of name for the pup. "The boys picked the name Rex. Codie and Rex are friends in Star Wars and this is their reason.
"Rex is so adorable, he is so affectionate and has really helped to brighten up our home again. Codie will always be missed though, we still struggle to cope with her horrific attack, it certainly isn't getting any easier to accept."
The family is holding a family fun day in the grounds of Stormont in November to raise money for animal charities.
They also want to raise awareness about the campaign to encourage stiffer penalties for those who abuse animals.
Natalie said: "We are having a meeting this week to discuss plans and will hopefully have more details by the end of the week."
Natalie explained that the left over money from money kindly donated when Codie was attacked will be shared among various animal sanctuaries.
Talking about Rex she said: "The puppy is doing great. He is such a wee dote. He just loves being around us and wants to follow us everywhere.
The kids are really enjoying him and giving him lots of attention. He has really lifted their spirits."
Natalie said Rex has put a spark back into the family house. "We keep making the mistake of calling him Codie and it brings our thoughts back to her each time we do this but I'm sure this is normal and will get easier in time. Rex has definitely put a spark back in our home and we are really enjoying spoiling him."
Ulster Star
12/10/2012