Personal tragedy inspires local man's book on living with ADD
FORMER VICE PRINCIPAL DRAWS ON OWN EXPERIENCE FOR MOVING NOVEL
by STACEY HEANEY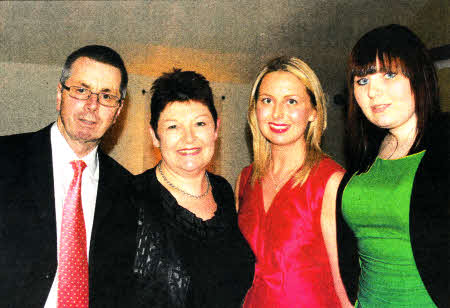 James and Máire Napier and daughters Catherine and Aisling at the launch of the book in January.
PERSONAL tragedy for one local family has led to a fictional account of their experiences with their son's Attention Deficit Disorder (ADD) being published, which they hope will raise both awareness and funds for charity.
James Napier, from Upper Ballinderry, a former Vice Principal at Wallace High School, wrote his book 'Living on the Ledge' in 2008. However, his son Michael, who himself had ADD, tragically passed away at just 25 years old in 2009, meaning James held back on publishing his work as the time wasn't right.
Living on the Ledge is an account of living with a child with Attention Deficit Disorder (ADD), also known as Attention Deficit Hyperactivity Disorder (ADHD), and the effect it can have on that individual and their wider faintly.
ADD is on the spectrum of autistic disorders which include Asperger's Syndrome.
James said: "The rationale for writing the book is not only to raise awareness of this much misunderstood condition, but also to raise money for charity. Since the launch of the book in January, nearly £1,500 has been raised for Northern Ireland mental health charities and support charities."
James and his family have already sent donation from proceeds of the book to Samaritans NI and to Compassionate Friends NI, the charity for bereaved parents.
While essentially a fictionalised account, James is able to draw on the experience of having a family member affected by Attention Deficit Disorder. Michael was only diagnosed with ADD at the age of 16; something he says meant it was "much too late for successful intervention."
James said: "It was a condition that had significantly impacted on his life. Michael died in 2009 and while ADD did not directly cause his death it did contribute very significantly.
"We knew he had difficulties at two years old but it took until he was 16 before we had a diagnosis.
Through Living on the Ledge, I hope to raise awareness in general, as well as money for charity. We have already raised over £1,500 since it was released three weeks ago."
James is now a full time author and has written a number of science textbooks and popular science textbooks.
This book, however, was something much more personal to the local man.
"This was done almost in memory of Michael, as well as to raise awareness of ADD. Following Michael's death I was more aware than ever of just how little understanding of the condition there is out there."
Living on the Ledge (price £6.99) can be ordered through www.booksni.com or direct from the author jamesnapier21@gmail.com, with hopes that the book will be available from some local bookshops in the near future.
stacey.heaney@ulsterstar.co.uk
Ulster Star
02/03/2012