local Games Makers are celebrated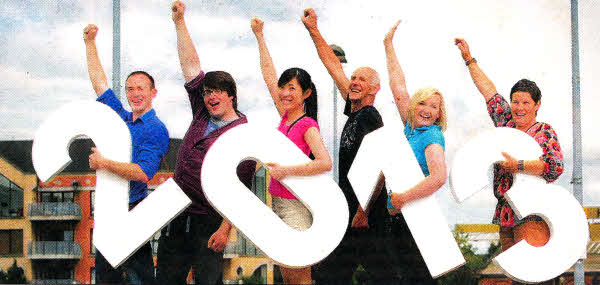 Helping to get the World Police and Fire Games volunteer recruitment campaign up and running is London 2012 Games Maker Charlotte Orr (2nd right) from Hillsborough. Included are experienced volunteers (from left) Michael Smyth, Gregor Aiken, Yi-Wen Hsu, Bryan Watton and Lynda Robinson.
LISBURN City Council have made the dream of volunteering at the world's largest sporting event a reality for local volunteers.
The Council supported the 2012 NI Volunteer Bursary Scheme which was set up by Volunteer Now and the Department of Culture, Arts and Leisure (DCAL), which saw nine Games Makers from the Lisburn area benefit from the scheme.
Wendy Osborne OBE, CEO Volunteer Now said, "The Bursary was a fantastic example of support for local people to make a difference through volunteering. Over £85,000 was contributed by supporters which was used to help fund 68 successful applicants from across Northern Ireland become the inspirational Games Makers of London 2012. They have been ambassadors for Northern Ireland and have showcased the benefits of volunteering to all."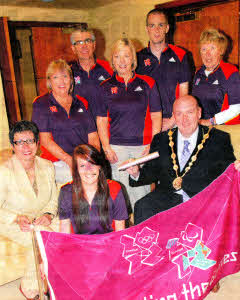 Lisburn Mayor William Leathem welcomes Olympics Games Makers from the local area to Mayor's parlour. Included are Wendy Osborne from 'Volunteer Now' along with Games Makers Chloe Sudlow, Lynn Bunting, Stephen Gilmore, Ann Cully, David Scott and Brenda Houston. INB137-GAMES
Alderman William Leathem, Mayor of Lisburn City Council said, "We are delighted to have been able to contribute towards the Bursary Scheme. We felt it was important to help make volunteering at the Games accessible to as many local people as possible. On behalf of the Council I commend all the Games Makers and particularly these local volunteers who have played their part in delivering the most successful games ever."
One of these lucky volunteers Lynn Bunting from Hillsborough commented, "Being a Games Maker was the experience of a lifetime, to be part of the greatest show on earth, to know that I was helping to make it happen...I was proud to be part of the incredible atmosphere that slowly evolved to a crescendo over the weeks.
"One day an American couple asked me if I was a volunteer and then thanked me for all the wonderful work the volunteers were doing. The heartfelt appreciation from people from a different nation made my volunteering experience so worthwhile. To me, this experience has been the pinnacle of my volunteering so far, and I'm going to be hard pressed to match it or top it."
Building on the legacy of the London 2012 Games Makers, Volunteer Now are currently recruiting volunteers for the 2013 World Police and Fire Games.
Wendy Osborne OBE, Chief Executive, Volunteer Now said: "The Games offer an excellent opportunity for local people to make a difference through volunteering. By applying to volunteer at the Games they can potentially be a member of Team 2013; the Spirit of the Games'. It also means they can be an ambassador for Northern Ireland, their community and inspire others to pick up the volunteering baton and give it a go."
To find out more about 2013 WPFG Volunteer Programme or to apply online, go to www.2013wpfg.com/volunteers
Ulster Star
14/09/2012