Local photographers snap up chance to go to club competition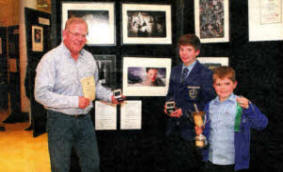 Lisburn's Ross McKelvie left with his sons Michael and James at the NIPA exhibition.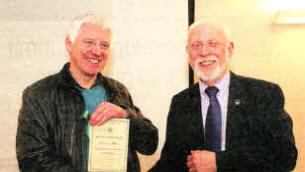 Dumnurry's Martin Lamb left from BPIC camera club receiving his award from NIPA president Danny McCaughan.
LOCAL camera clubs throughout the province are gearing up for Spring already and on Friday February 24 the different clubs will converge at the Belfast Photo Imaging Club (BPIC) for the fourth round of the inter-club championships.
This year has seen very strong entries to date in the five round series and with the final round being for images with a Shadows theme then there will be plenty of opportunity for artistic expression to come out in early March.
Artistic expression was displayed in abundance recently too when novice photographers showed off their potential in the Northern Ireland Photographic Association's Novice competition and also when photographers from throughout the province put forward their best work for the NIPA exhibition at the Waterfront Hall.
The representatives from each club that make up NIPA have recognised a need also to give intermediate photographers a special focus and at the recent NIPA council meeting it was agreed that next season will see the introduction of a special intermediates competition.
At that same meeting there was also plenty of debate on the format for next year, but recognising the strong desire for clubs to have a challenge throughout the year the multi-round series will continue.
Anyone with an interest in finding out about local camera clubs can obtain their details at the NIPA web site www.niphoto.co.uk as well as see how the local clubs are faring out in this year's inter-club series.
Ulster Star
17/02/2012