Lynsey releases charity single in memory of dad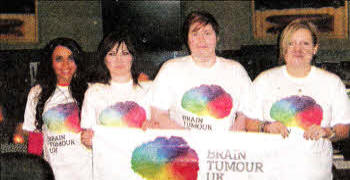 Third from left is Lynsey Stewart with singer Chantal Lappin (first on left) Leigh McKeown (Lynsey's sister) and friend Shannon Johnston.
A FINAGHY woman has come up with a remarkable way to raise money for Brain Tumour UK, the charity which supported her late father.
Lynsey Stewart decided to release a single and used social networking sites to get a recording studio and a singer to help make the idea a reality.
Upcoming singer Chantal Lappin and Dean Street Studios of London soon volunteered their help and Lynsey and her friends flew over to London last month to record the single.
Lynsey explained: "I did it in memory of my dad and others who have suffered from a brain tumour.
My dad was diagnosed in 1986 at the age of 40. Over the next 10 years he had three brain operations, chemotherapy and radiotherapy and finally lost his battle in 1996."
Lynsey continued: "It was difficult as a family, to see someone you love so much go through such an illness and yet through it all he was so brave, He always had a smile on his face and always thought of us, myself, sister Leigh, brother Mark and my mum Joan.
"I just wanted to do something for people going through this at the moment and to raise money in aid of Brain Tumour UK, who have helped so many of us through the difficult times.
Thousands of people and their families are affected by this each year and I would just like to raise awareness so that more research can be done for this cancer."
The charity single was released on iTunes in UK/Ireland on June 11 - the anniversary of Lynsey's father's death.
She said: I'm so grateful to Chantal Lappin for taking time out of her busy schedule to make this possible and to Dean Street Studios of London for agreeing to record the song.
I would also like to thank my family for their support and the support I've been getting from friends and on Twitter, Facebook and of course to Brain Tumour UK themselves."
If anyone would like to support Lynsey you can buy the single form itunes or donate online at www.Justgiving.com/LynseyStewart81.
Song: My immortal Feat.(Lynsey Stewart) Single now online at iTunes
Ulster Star
15/06/2012