Lisburn shop named Mace Store of the Year
by MARY MAGEE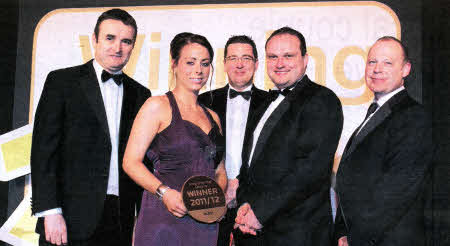 (L-R) Damien McCarney, Services Director, Musgrave, manageress Julie Dunn, Trevor McCrumb, Rovis (award sponsor), store owner Ricky Leathem and Alastair Patterson, Mace Sales Advisor.
A 'TREMENDOUS achievement' is how Ricky Leathem, the owner of the Lisburn store that has won the title Mace Store of the Year described the award.
Leathem's Mace, based at Longstone Street owned by Ricky and Victoria Leathem, claimed the coveted title in the under 1500 sq ft category at the Musgrave Retail Partners NI Gala Ball in the Ramada Plaza, Belfast.
The local store came out at the top of a very strong field thanks to its exceptionally high standards of customer service.
Ricky says a recent refit of the store has made a huge difference, allowing an even better offering for the community.
The judges said the owners have a strong community focus, raising large sums of money for charity, including recently holding a raffle for local charity The Compassionate Friends.
The Store of the Year awards recognises stores which achieve the very highest standards expected by Musgrave. Every Mace store in Northern Ireland undergoes a rigorous audit process, measuring every aspect of its performance. "We are absolutely delighted to have won this prestigious accolade," said Ricky.
To win is a tremendous achievement — especially when you consider the quality of the opposition in this category. We are very grateful to all of our loyal customers from Longstone Street and the surrounding Lisburn area for their continued support over the years. Since I come from the area myself, their support means a lot.
"We are a very community orientated store so it's great to provide this local service. Huge credit is due to my wife Victoria, our excellent manageress Julie Dunn and our staff for their dedication and commitment to service excellence. Julie always ensures everything is perfect in the store and the staff consistently put in a huge effort to deliver for our customers.
"Hopefully we will see a repeat of our success at the awards next year".
Damian McCarney, Musgrave Services Director, said: "The team at Leathem's provide a great service to the people of Lisburn. Their community focus is second to none, and the level of services offered sets them apart. The staff are well-trained, friendly, and committed to delivering a top quality service, and the local community obviously recognise and appreciate this".
Ulster Star
30/03/2012