Go the extra mile for Macmillan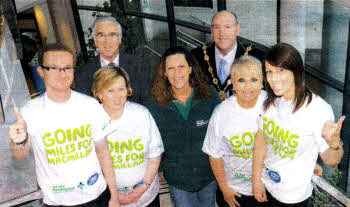 Lisburn Mayor William Leathem and Adrian Donaldson, director of Corporate Services lend their support to staff from Boots at Sprucefield before the charity 10 mile walk and coffee morning in aid of Macmillan. Included are Matthew Gray, Jennifer Partridge, Joanne Young, Macmillan, Anita Warnock and Victoria Chapman. INUS39-RUN
MACMILLAN Cancer Support is encouraging people in Lisburn to improve the lives of people affected by cancer by signing up to 'Miles for Macmillan'.
The Belfast to Lisburn walk is just one of over fifty five fabulous Miles for Macmillan walks organised with support from Boots UK. The walk takes place on Sunday October 14, along the tow path from Belfast and ending at the Island Civic Centre in Lisburn. The Mayor, Alderman William Leathem will be waiting to congratulate everyone who has completed the 10 mile walk; and courtesy of Lisburn City Council light refreshments will be available.
Macmillan's fundraising manager, Joanne Young , said: "The Belfast to Lisburn walk is absolutely stunning and full of history. Walking in a group can be great fun and knowing that every step you take will be helping people affected by cancer is a real incentive to keep everyone going."
The Mayor of Lisburn, Alderman William Leathem said: "The choice of a fundraising walk is excellent as it allows friends and family of all ages and abilities to get involved in the challenge. I hope that lots of people will join Macmillan on this walk so they can play their part in raising funds for this very worthwhile charity. Lisburn City Council is delighted to be supporting this event through its Corporate Services Committee.
"The money raised by this walk will help to ensure that those people in the Belfast and Lisburn areas affected by cancer can get support from Macmillan when they need it most."
Supporters also have the option to hold their own walk by choosing a date and route, and inviting friends, family or colleagues to join them and get sponsored for their efforts.
Macmillan Cancer Support and Boots UK are inviting people to enjoy the great outdoors and get active to help improve the lives of people in their community living with cancer. To find a walk near you, or for a Miles for Macmillan fundraising pack, see www.macmillan.org.uk/walking, or 0300 1000 200 (9am-5pm Monday to Friday).
Ulster Star
28/09/2012