John's family take up his maracycle challenge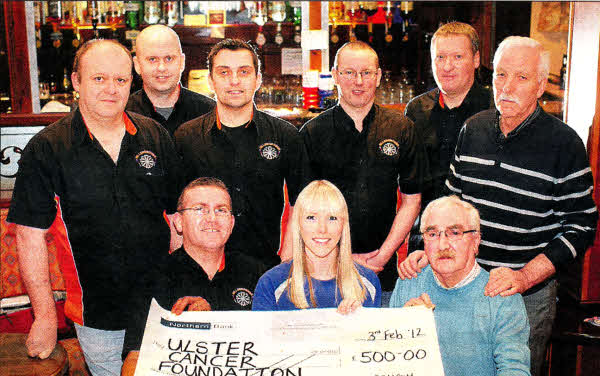 Maeve Fox (centre), from the Ulster Cancer Foundation, receives a cheque for £500 from members of Hillsborough 'A' darts team who raised the money during a New Year's Day darts competition. US0612-520cd
HILLSBOROUGH: The widow of talented artist John Connery said she was touched and delighted that their son and other family and friends were undertaking a testing 220 mile maracycle in memory of her husband to raise £10,000 for the Ulster Cancer Foundation (UCF).
The energetic band of 15 cyclists, including John's nephew Andrew Holden from Hillsborough , began gearing up for the Belfast/Dublin cycle after John (54), who was diagnosed with bowel cancer in 2007, sadly lost his battle with the disease last July.
John had intended to do a maracycle for UCF last summer with his son Michael but had to abandon his plan when he became too ill. But Michael (24) and J Andrew, decided to take on the challenge in his memory.
John's wife Jacqui said "John was first diagnosed with cancer in February 2007 and had a bowel operation in April. He was great until September 2009 when we found out it had come back and was in his lungs and abdomen. He was told he had a couple of years and decided he wanted to do a few special things.
We managed to have a family holiday with Michael and our daughter Jill in Australia in 2010, which was paradise. John was wonderful the whole time we were there, but I can't look at the photos we took — it's too painful. It's still a very painful time," she revealed.
"By the time John was training for the UCF maracycle the tumour in his stomach had grown and caused a lot of problems so unfortunately he wasn't well enough to see it through.
"In March he was really quite ill but even when he died in July neither of realised his time was up. I'm happy that he didn't know. Afterwards Michael said he wanted to do the maracycle for his dad."
Jackie added, `John was a lovely person and a very talented artist, I have beautiful landscapes hanging on the walls and paintings of Jill. He has done some of The Great War and I'd love to donate some to the Imperial War Museum for the 100th anniversary.
"John had a great way with words — he has published two collections of short stories - and loved to play the guitar. He was always creating something, even sitting down at night he would be sketching or writing, and said he got his best ideas when he was soaking in the bath.
"His studio is still here just as he left it, though I did put some of his brushes in turps. Even when I get around to clearing it, it will always be known as the studio' and be a very arty kind of room," she said.
"I had and still have a lot of support from family and friends but I know there are people out there who don't have anyone to help them cope. The Ulster Cancer Foundation plays a very important role in supporting people during an enormously difficult time in their lives and would appeal for everyone to give generously to this cause. I know what it's like to have your world turned upside down — plus this is another way to remember John."
Nephew Andrew (37) is organising the cycle and has enlisted two of his brothers, Mark (24) and Ashley (39), as part of the team. He added, "After John passed away I thought to myself I'm going to do this. I told a few people and before I knew it about 15 others had signed up as well. At the minute we are busy trying to get sponsorship as well as training.'
John's story reached a wide audience during 2010 when he wrote a weekly column for the News Letter. Last year he received a special commendation at the Regional Press Awards in London for his inspirational and thought-provoking words which showed the very real impact a cancer diagnosis has on every aspect of someone's life.
Jacqui said, "John found writing about his experiences, his observations and how he felt thought-provoking People often go very quiet when you talk about cancer and don't know what to say. He told it just like it is. He wanted to give an insight to what it was like and help others who may be on the same journey and who felt scared and helpless. He had a great sense of humour which came through in his articles. You could be crying one moment and laughing the next. It is a great comfort to me to think that he has helped others cope with their illness."
If you'd like to make a donation please contact maevefox@ulstercancer.org or call Maeve on 028 9068 0761.
Ulster Star
17/02/2012