Marathon men urge runners to support children with cancer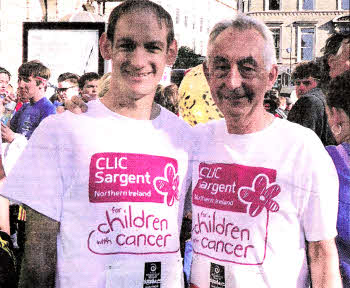 Jonathan Barnett with his dad Michael at the starting line for 2011's Belfast Marathon.
MOIRA: A father and son from Moira have called on local runners to get behind children's cancer charity CLIC Sargent in this year's Belfast Marathon.
Michael Barnett and his son Jonathan are encouraging people to do the marathon on May 7 to raise money for the charity after their own family was affected by cancer.
Michael said; "I first became involved with CLIC-Sargent eight years ago when my niece Sarah was diagnosed with an aggressive form of brain cancer.
"She underwent surgery at the Royal Belfast Hospital for Sick Children but unfortunately the surgery was only 95% successful and sadly, following three years of illness, Sarah lost her battle in February 2007.
During Sarah's illness CLIC Sargent provided a huge amount of support, not just to Sarah but to her family as well. To say thank you and to express our appreciation for the care, for the consideration and for the compassion that CLIC-Sargent had shown Sarah and. her family, I decided that some form of repayment was required.
"So, in 2005 my son Jonathan and I decided to run the Belfast Marathon and raise a bit of cash for them. And to keep Sarah's memory alive and to continue raising funds for CLIC-Sargent, we've completed five Belfast marathons, the last one in May 2011. Unfortunately, due to health problems our • running days have been put on temporary hold, so no marathon for us this year.
"However I would encourage and support anyone who helps support CLIC-Sargent, and in particular anyone who is thinking of running the Belfast marathon for them. If you are, good luck and enjoy."
Claire McAuley, Event Fundraising Manager at CLIC Sargent said; "Every week in Northern Ireland two children or young people are diagnosed with cancer. The money raised through the Belfast Marathon makes a direct impact on those families, so it is hugely important.
"Runners can tackle the whole 26 miles, or they can form a relay team with friends, family or colleagues. It's a great fun day out and we look forward to another successful year."
For fundraising information contact Claire on 02890725780 or email claire. mcauley@clicsargent.org.uk
Ulster Star
09/03/2012