Firefighters stand by for challenge to help Marie Curie
by MARY MAGEE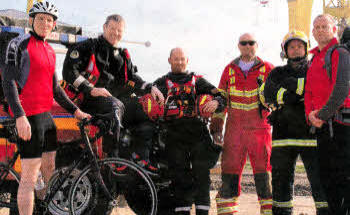 Firefighters who will take part in a Celtic Cross Challenge, Eamonn McKenna from west Belfast, Paul Murphy Crumlin, Cahal Murray Glengormley, Michael Kelly of Glengormley, Michael Harki Drumaness, Gerry Lennon Carryduff, Adam Lowry Finaghy, Jonny Dick of Newtownards and Max Joyce from Crumlin.
NINE firefighters are about to embark on a madcap never-done-before challenge that will test their fitness levels to the limit.
Crumlin men Max Joyce and Paul Murphy, as well as Adam Lowry from Finaghy will join six of their colleagues from the Specialists Rescue Team (SRT) of the Northern Ireland Fire and Rescue Service to cycle 228 miles, climb 2194 metres and kayak 12 miles over four days (May 26 to 29) as part of the Celtic Crossing Challenge.
The challenge will help the firefighters raise £20,000 for the Clic Sargent 'Home From Home' appeal that offers travelling expenses to those families who have to make countless trips to Belfast in order for their child to get cancer treatment.
Max (50) from the Beeches, who suffered cancer 15 years ago, was inspired by a chance meeting in a waiting room with a young boy when he was receiving radiotherapy. The youngster was disfigured with cancer and Max was asked if the boy could go in before him.
Max was so affected that he always promised himself if he got better he would do what he could to help children like that young boy.
So far the fire fighters have raised a cool £3,500 but hope to reach a target of £20,000.
"£20,000 seems far off but I am determined we will get there" said Max "Explorer Sir Ralph Fiennes donated £75 and a car wash was held recently that raised £650.
"We would ask people to get behind us by organising car washes, quiz nights, coffee mornings - anything to help us reach the target."
The idea of a challenge came about when Max thought of asking the team of doing a fundraising event for Clic Sargent. They decided on climbing Ben Nevis, but then someone in the team said that he would like to kayak, and another • suggested climbing Slieve Donard.
The list was just endless," said Max "The team are all really fit and they were very enthusiastic. Before we knew we had a list of challenges. We had to stop somewhere otherwise we would have been going to Iceland." The challenge starts off on Saturday when the men climb 1344 metres of Ben Nevis followed by a descent and a cycle of 40 miles to Oban.
The following day they will cycle 100 miles from Oban to the Mull of Kintyre. On day three, May 28, they will kayak 12 miles across the North Channel to Cushendall followed by a 49 mile cycle to Belfast.
The challenge will be completed on day four with a 30 mile cycle from Belfast to Newcastle and a climb of 850m up Slieve Donard.
Others members of the team include Eamonn McKenna from West Belfast, Cahal Murray and Michael Kelly from Glengormley, Michael Harkin from Drumaness, Gerry Lennon of Carryduff and Jonny Dick from Newtownards.
Sponsorship forms are available from any member of the SRT or donations can be made directly to www.justgiving.com/celtic-crossing-2012. You can follow the team on Facebook at www.facebook.com/CelticCrossingChallenge or if anyone needs further information contact Max Joyce on mobile number 07919496429.
Ulster Star
25/05/2012