Charity says thank you to Rodgers Community Care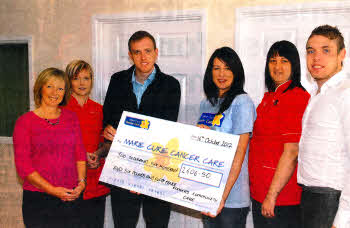 Staff from Rodgers Community Care hand over a cheque for £2606.50 to Marie Curie Cancer Care represented by Ruth Hope. The money was raised at the charity's Walk 10 event held at Stormont. Included are Adele Faloon, Jeana Sanderson, Michael Rodgers, Sue-Ellen Lovell and Gary Rodgers. INUS42-RODGERS
MARIE Curie Cancer Care would like to say a massive thank you to all of the staff of Rodger's Community Care in Lisburn, who took part in the charity's Walk Ten event at Stormont on Friday, August 31, and raised such a fantastic amount for the charity.
This total will create over 130 hours of specialist Marie Curie nursing care for terminally ill patients in the local community.
Management and staff of Rodgers Community Care as well as friends and relatives of the Rodgers family, raised £1,250 for Marie Curie cancer care.
This event was especially significant for everyone connected with Rodgers Community Care as it fell on Gary Rodgers' birthday - August 31. Gary was well respected and liked by his staff and the wider business community.
The Rodgers family would like to thank all the Marie Curie staff who provided the excellent care to Gary when he needed it.
A big thank you to everyone who took part in this very worthwhile event in memory of Gary and other much loved relatives connected to Rodgers Community Care.
The 10k walk at Stormont Estate was one of a series of unique 10k twilight walks taking place at 25 beautiful venues across the UK. Following the walk there was music by U105 and Carolyn Stewart, a live performance by Dave Martin, picnics, fireworks and fire juggling throughout the evening to celebrate the work of Marie Curie Nurses. Nearly 1,800 people from across Northern Ireland took part, and to date the event has raised over £110,000. This is an outstanding amount, which will make a huge difference to the lives of terminally ill patients and their families throughout Northern Ireland, creating over 5,500 hours of Marie Curie Nursing Care and support.
Walk Ten is an annual event, and will be even bigger and better again in 2013 with over 2,500 participants expected. For more information or to register your interest, go to www.mariecurie.org.uk/walkten or call 0845 052 4184.
A spokesperson for the charity said: "Once again thank you to Rodgers Community Care for their kindness and generosity in raising such a fabulous amount."
Ulster Star
19/10/2012