Brave Mark set for another adventure
by STACEY HEANEY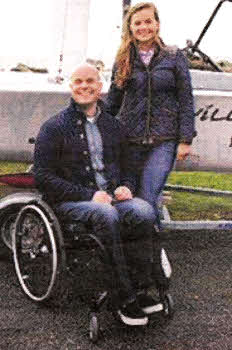 Lisburn's Mark Pollock with Co Down sailor Tiffany Brien.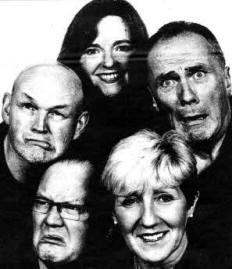 The Lambeg Players.
LISBURN man Mark Pollock is set to undertake his first adventure since he was paralysed in a fall almost two years ago.
Mark, 36, who is originally from the Magheralave Road area of the city, broke his spine in three places in a fall in England in July 2010.
The adventurer, who has previously trekked to the South Pole, ran six marathons in the Gobi Desert in one week and run a marathon at the North Pole, has already overcome much adversity in his life after losing his sight at just 22.
Determined not to let paralysis hold him back any more than he has let his blindness limit his ambitions, he is now aiming to sail across the Irish Sea.
Accompanied by Co Down sailor Tiffany Brien on the challenge, Mark is hoping to raise money for the Mark Pollock Trust and disabled sailing charity Belfast Lough Sailability.
The trust is raising funds to assist with the costs specifically associated with his spinal injury - including a team of care specialists, physiotherapy equipment, visits to recovery centres and wheelchairs.
Paralysed from the waist down, Mark said his aim was to defy the odds and walk again. "This will be my first big physical challenge since I was paralysed so I am really looking forward to giving it my best shot," he said. "I used to sail before my accident so I cant wait to get back out on the water."
The challenge is scheduled for the beginning of June and the pair will be sailing a specially-adapted Skud yacht which Tiffany purchased for Belfast Lough Sailability following her own fund-raising sailing efforts four years ago.
"Mark is a real inspiration so I am honoured to have the chance to participate in this challenge alongside him," she said. "His determination is infectious and I have no doubt we will achieve our goal of crossing the Irish Sea to raise valuable funds for the Mark Pollock Trust and Belfast Lough Sailability"
Locally, people in Lisburn have rallied behind Mark since his accident, in order to raise money for the Mark Pollock Trust.
Members of Lambeg Players have organised two fundraising shows for Mark in the Lagan Valley Island Theatre on Thursday May 10 and Friday May 11 entitled 'The Sublime
and The Ridiculous'.
The five entertainers are busy rehearsing for the shows which they say will bring the audiences something special featuring the superb musical talent of two of the province's most sought after soloists Elizabeth Ross and Laura Kerr and a generous helping of comedy from Colin Boyd and brothers Ian and Paul Bennington.
Well known Lisburn musician Geoffrey Cherry will be leading the band along with pianist Loreto McAuley and percussionist Jeremy Hoy.
Mark has a particular place in the hearts of Lambeg Players as his mum Barbara and sister Emma are both active members and Colin Boyd is Mark's uncle. Mark himself was involved in the Lambeg Players pantomimes as a youngster.
To get tickets for this hugely entertaining show, contact the box office on 028 9250 9254 or book online at tickets. www.lisburncity.gov.uk
stacey.heaney@ulsterstar.co.uk
Ulster Star
04/05/2012