Charity night in aid of Mark Pollock Trust
by STACEY HEANEY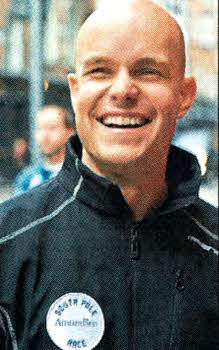 Mark Pollock.
THE PSNI Ladies Choir will perform at a special concert tonight (Friday) to raise funds for the Mark Pollock Trust.
The concert will take place in Harmony Hill Presbyterian Church from 8pm in aid of Lisburn man Mark, who was paralysed in a fall in July 2010. Mark broke his back in three places when he fell 25ft from the window of a house in Berkshire, whilst attending the Henley Royal Regatta.
Originally from the Magheralave Road area of the city, he is well-known to many in the local area, with the adventurer having completed many extreme challenges despite losing his sight at just 22, including trekking to the South Pole, being the first blind person to complete the lowest and highest marathons in the world including the Dead Sea Ultra in Jordan and the Tenzing-Hillary Everest Marathon, as well as taking part in the 1,400km Round Ireland Yacht Race.
Local couple Walter and Audrey Carruthers have organised the concert and they hope to raise as much as possible from the event.
Walter said: "Marks grandfather, Clifford Boyd, was an Elder in the Church and Mark and his mother, Barbara, were members of the Church before moving away, so there is a big connection to Harmony Hill. Audrey and I have known Mark's parents Barbara and Johnny since before he was born.
"Through this event we want to try to raise money to have some remedial treatment for Mark's paralysis," added Walter.
The event has been planned since before Christmas and Walter and Audrey hope to see as many people attending as possible.
We organised this because we have known Mark since he was born and we wanted to do something. We hope to raise as much as possible to help him and there is a suggested donation of £10.
There is plenty of car parking space at the Church and there is disabled access so we hope to-see as many people there as possible."
stacey.heaney@ulsterstar.co.uk
Ulster Star
27/04/2012