Martin to be medic for lost Worlds Racing event
by MARY MAGEE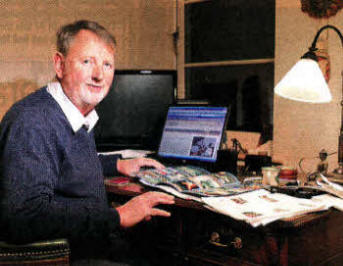 Moira podiatrist Dr. Martin Duggan, who has been appointed as medical director for the Lost Worlds racing series. US0612-event
A MOIRA podiatrist and sports therapist has been appointed Medical Director for the Lost Worlds Racing series which will take runners on a set of gruelling 100k or 50k races around some of the the world's most famous heritage sites.
Martin, who lives at Clarehill Road, has returned from Nicaragua and Costa Rica where he had been providing medical cover for a pre-stage of the race and assessing new venues.
As newly appointed Medical Director he persuaded the organisers to hold the first major race of the season at Causeway Coast where up to 15 international runners and 50 others are expected to take part.
This will be the first of the series of races to take place throughout the year. Others will be in Belize, Tuscany and Dominica - all around ancient sites.
The local race at the Giants Causeway will start at 3am at March 31 and promises to be a tough run.
Martin has already gone along the route to check for any hazards.
"We have looked at the route and decided to cut out the steps because there was a ledge issue for the runners," he said.
"A lot of the countries where the race will be going later are hot and there are issues with the heat, but it is not likely there will be those sort of issues here" he laughed. "Sprains, bumps and of course blisters are the more common problems.
"People who are interested can even walk the route, though you start off at 3am." Next year there will also be a stage race across the breadth of Ireland from Newcastle to Dunloe which Martin has helped to arrange.
The Lost Worlds Racing is partnered with the Ulster Cancer Foundation and runners are asked to raise funds for the charity.
However Martin emphasised that anyone who is keen to take part in the run can raise funds for any charity.
Martin, who was involved in the World Wide Rescue team which helped after earthquakes also supported Banjo Brennan when he climbed Everest in 2003.
"An international field of ultra runners will be coming to Northern Ireland to take on the challenge and race against local ultra runners like Hannah Shields and local girl Taryn McCoy," he said.
"Our local charity partner Ulster Cancer Foundation would be pleased if runners or walkers would sign up and compete to raise funds for them. You can enter the event either for charity or as an individual."
Ulster Star
17/02/2012