A special day for a special lady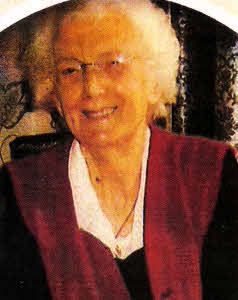 Mary McCann. U53512
AUGUST 24 was a big day for one special great-great grandmother, Mary Frances McCann.
The Hannahstown woman - who was born in the same year the Titanic sank, the Balkan war began, actor Gene Kelly was born and Robert Scott reached the South Pole - became a true centenarian and celebrated her 100th birthday surrounded by family and friends.
It was only eight months ago when Mar who had lived at the Upper Springfield Road since 1984 moved into Brooklands Nursing Home in Dunmurry.
She was visited by the Lord Lieutenant of Belfast Mary Peters, and received a telegram from the Queen and a birthday surprise from the Taoiseach as well as many presents, cards and well wishes from her children, 61 grandchildren, 110 great-grandchildren and 31 great-great grandchildren some of which travelled from Australia to be with her.
Mary (nee McGreevy) was born in Belfast on August 24, 1912 to Jack McGreevy and Alice Millar.
She was one of nine children Sammy, Alec, John, Harry, Jimmy, Frank, Gerard and Kate. Gerard, from Belfast is the only surviving sibling after her sister Kate sadly passed away last year.
When Mary's mother died in May 1929 at the age of 40, Mary was left to bring up her younger siblings at Glen Road Cottages.
On October 29, 1930 she married Patrick McCann from Lisburn at St Teresa's Church, the same church she was baptised in back in September 1912. They moved to Arizona Street for a short time before moving to Englishtown.
Mary and Patrick had 14 children, seven daughters and seven sons, Alice, Joan, Pat, Lily, Mary, Frank, John, Brendan, Dominic, Gerard, Adrian, Cecilia, Goretti and Paddy.
Shortly, after her husband died in 1984 Mary moved to the Upper Springfield Road, Hannahstown.
Mary's youngest daughter Goretti who lived in Worcester, England lost her battle with cancer in August 1995 and her eldest daughter Alice from Turf Lodge died ten years later in July 2005.
Ulster Star
07/09/2012