Masonic hall is badly damaged by arsonists
by STACEY HEANEY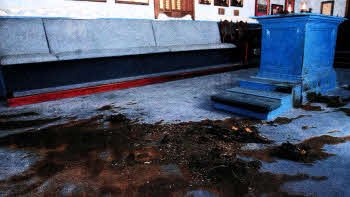 The remains of the fire in the Masonic Hall at Blaris Road
A LISBURN Masonic Hall became the latest community building to be attacked when it was damaged by arsonists last week.
The hall on Blaris Road was broken into and vandalised before petrol was spread throughout the building and set alight on either Wednesday night or the early hours of Thursday morning.
Members of the organisation said they were 'saddened' for those responsible who have so much 'hatred inside them'.
The Masonic Hall has stood at the site since 1907 and it was discovered that jewels, some dating back to the 19th century, which belonged to former members who have passed away, were stolen in the attack.
The damage was discovered early on Thursday morning by a postman, who reported theincident to the police.
Two fire appliances attended the scene from Lisburn, as well as one from Dromore Fire Station.
However, the fire is believed to have extinguished itself as the room was airtight.
The attackers had broken into the hall via a ground floor window and one of the perpetrators is thought to have cut themselves either entering or exiting the building as blood was discovered around the window frame.
Whilst the police are not believed to be treating the attack as sectarian, some within the organisation believe the attack was religiously motivated:
A spokesperson for the Grand Lodge of Ireland said that there are suspicions the perpetrators mistook the building for an Orange Hall.
Michael Holden said: "The hall is used by approximately 150 men from various organisations; they don't get involved in politics or religion. This is just wanton vandalism. The organisations will have to move out until the hall is refurbished.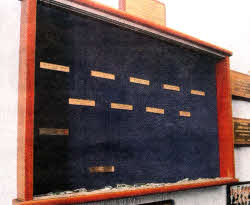 The smashed cabinet where the jewels were displayed
"Although the police don't want to treat it as sectarian, all of the cupboards with the Masonic regalia were broken into and a pyre was formed in the middle of the room and set alight; the men feel that's precisely what it is. "The Masonic Order is apolitical and areligious, we feel they mistook us for an Orange Hall," he said.
Michael added: "The hall was purpose built by the Masonic Order in 1907, since that date the hall has been maintained and renovated by the skills of the masons that use it. In June we got a brand new kitchen and a major refurbishment took place, all that work is now destroyed.
"We want people to know that we are an all-Ireland organisation. Our headquarters are in Dublin and we raise money for charity in the south as well as the north. Some of our members recently went to South Africa to build social housing, so we are very community oriented.
"We have a deep sorrow for the perpetrators because they must have so much hatred inside them. In all our time we have never been vandalised or attacked. The pungent smell of smoke is breathtaking, there is a lot of smoke damage."
Michael continued: "One thing that is very obvious is that they broke into the display which had all the Masonic jewellery and they have stolen all of that. The jewellery is very distinctive and dates back to the 19th century. We would appeal to somebody to return it, even if they could leave it somewhere and let us know so that it is returned."
Donald Milliken, a committee member with the Masonic Order, said: "The hall is unusable, how much will have to be repaired I don't know, although the structure seems sounds enough. Luckily the fire never really got going.
We do a lot of voluntary work on the hall and one man spent nine days, spending £130, doing repair work to the vestibule, now that is all lost. I can only imagine how that man feels.
"We are a social and charitable organisation, we have absolutely no political or religious affiliation. It is possible for a Roman Catholic, a Jew and a Muslim to all sit together in friendship and I've had that circumstance myself.
"The hall is a question of pride for us, in the state we keep it and our-grounds, all our work has been ruined," he said.
Mr Milliken added: "We are under the governorship of Irish Freemasonry, we reach out into the community and in recent years we have given over £200,000 to the LauraLynn Children's Hospice in Dublin, over £200,000 to the NI Children's Hospice and £200,000 to the Samaritans, particularly going to young people for suicide prevention. We raised £4,000 alone from our hall last year.
"What really saddens me is that these people are so isolated and so hate society that they attack an organisation such as ours. I'm sorry for them they have so much hatred inside them. Where is society going?"
Speaking about the theft of Masonic jewellery, Mr Milliken said: "Within the all we have certain ceremonies and a wee bit of regalia and as you go through the offices you get a jewel. For our deceased members we displayed their jewels and now that is gone. I can't see them being of any commercial use to anyone but Masons, it's very sad."
He added: "The petrol they used was in a can. They actually came prepared to burn us, it wasn't just a question of boys breaking in and a bit of vandalism."
A Fire Service spokesperson said: "Fire Crews attended a late call of a fire which on arrival had already self extinguished. It is thought the fire was started deliberately." Police in Lisburn are appealing for information following the attack.
Anyone who can help is asked to contact Lisburn Police Station on 0845 600 8000. Or if someone would prefer to provide information without giving their details, they can contact the independent charity Crimestoppers and speak to them anonymously on 0800 555 111.
stacey.heaney@ulsterstar.co.uk
Ulster Star
27/07/2012