Little Matthew walks tall at Twickenham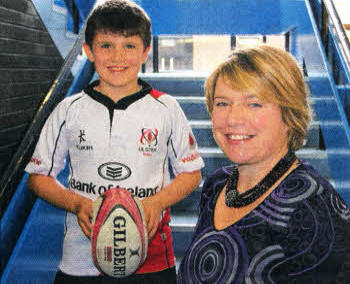 Wallace Preparatory pupil Matthew Thompson who led the Ulster rugby team out at Twickenham chats to Wallace principal Deborah O'Hare.
MATTHEW Thompson enjoyed the experience of a lifetime last Saturday when he led the Ulster rugby team out alongside captain Johann Muller in front of 80,000 fans at the Heineken Cup final at Twickenham.
The Wallace Prep pupil entered a Bank of Ireland competition and struck gold by winning. His mother, Mrs. Thompson explained: "The whole family were delighted, especially his grandmother who encouraged Matthew to enter the competition."
Matthew, who promised if he won he would dye his hair red and donate his pocket money to the Wooden Spoon charity, was accompanied to Twickenham by his mum, dad and Nan who all enjoyed the day despite the final outcome.
"I had a really brilliant day and it was special to share it with my mum, dad and Nan who encouraged me to enter the competition," said Matthew. "I got to meet my favourite player Stephen Ferris which was a real thrill and many of the other players too. To walk out in front of all those people was pretty scary but very memorable. The only disappointing thing was the result of the game.
Wallace Hi School Principal, Deborah O Hare was delighted to hear the good news Ulster Rugby had yet another Wallace connection on the pitch on Saturday as Matthew took to the field with the team which included past pupil Chris Henry. She commented: "Matthew will remember Saturday for the rest of his life. I am so proud that one of our current pupils represented the school at Twickenham on such a prestigious occasion and we were, as ever, proud of the achievements and performance of our distinguished past pupil Chris Henry
The Preparatory Department got into the spirit of the cup final by wearing Ulster colours to school last Friday and were delighted to hear of Matthew's success in their special 'Celebration Assembly. They also used the opportunity to raise money for Lisburn 2gether Special Olympics Club', the chosen charity of The Lisburn Mayor, Councillor Brian Heading."
Ulster Star
25/05/2012