Diamond couples invited to Mayor's party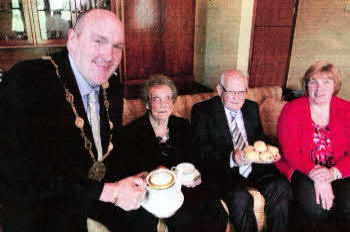 Inviting all those married in 1952 to a Diamond Jubilee Tea Party on Monday at Lagan Valley Island at 12 noon are the Mayor, Alderman William Leathem, Mrs. Elsie Bowers, Mr Robert Bowers and the Mayoress, Mrs. Kathleen Leathem.
LISBURN Mayor, Alderman William Leathem, is inviting all residents who were married in 1952 to join him at a Diamond Jubilee Tea Party on Monday, June 25, at Lagan Valley Island.
The Diamond Jubilee Party will take place from 12noon to 2 pm.
Helping the Mayor to launch details of the Tea Party were local couple Mr and Mrs. Bowers who were married on March 21, 1952.
Issuing the invitation, Alderman Leathem said he would love to hear from local residents for who 1952 was the start of their married life.
Achievement
"Sixty years of marriage is a great achievement and we wanted to recognise our citizens who share this wonderful anniversary with Her Majesty.
"We also very much want to encourage anybody .married in 1952, but whose husband or wife is sadly no longer with us to come along and be recognised. Should you wish to bring a friend or family member along you will all be made most welcome," said Alderman Leathem.
Mr and Mrs. Bowers showed the Mayor a card they received from The Queen congratulating the couple on their 60th Anniversary.
I was delighted to receive such a lovely card from Her Majesty The Queen and am looking forward to the Diamond Jubilee Tea Party on Monday," said Mrs. Bowers. Anybody wishing to come along should contact the Mayor's Office this Friday or Monday on 028 9250 9331.
Ulster Star
22/06/2012