International architect breathes new life into Maze
by JULIE-ANN SPENCE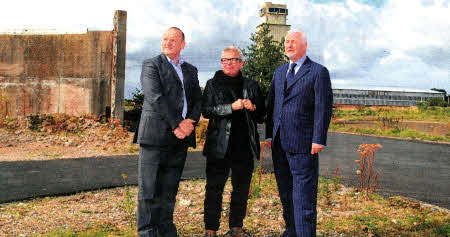 Architect Daniel Libeskind with Martin Hare from McAdam Design and Chairman of the Maze/Long Kesh Development Corporation Terence Brannigan
INTERNATIONALLY renowned architect Daniel Libeskind has been chosen to breathe new life into the site of the former Maze Prison with his contemporary design for a new Peace Centre.
Daniel, the man behind the Ground Zero project in New York and the iconic Jewish Museum in Berlin, plans to create a "21st century shared space" at the former prison site, which will allow the community to share "a common future".
Speaking during his visit to the site this week, Daniel said he had already met with local residents and hoped to have plans for the new Peace Centre drawn up before the end of the year, with the hope that the centre could be completed by 2015.
With a reputation for working on emotionally charged projects, Daniel was the first choice for McAdam Design when they decided to look for an international "design champion" for the project and when he got the call asking if he would like to partner with them he said he "didn't hesitate."
Daniel explained: "I thought it was a very meaningful thing and I didn't hesitate. One of the reasons it is so important is because of the variety of views and we want to bring people together.
That is the function of the building," he continued. "That it delves into tragic history and memories but that it can provide a sense of movement.
'I am not a sentimentalist, I am a contemporary architect and a special space can really bring people who wouldn't normally come. Then they can see the layers of history, see how fascinating it is and how peace can be built.
"We need to think about how we want to educate people, what do you want to do to inspire the public, particularly the younger generation to learn from history and do something fantastic with it."
After meeting with local residents, Daniel said people were enthusiastic about the project. 'People want something exciting to happen and to see the site coming back to life.
It will be something very special," he added, "Not just for the local community but for all of Ireland, the UK, Europe and the rest of the world_"
---
McAdam Design 'privileged' to work on Peace Centre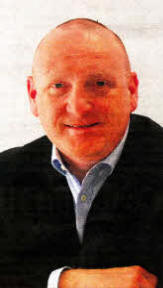 THE newly formed Maze/Long Kesh Development Corporation has announced that Belfast firm McAdam Design have been commissioned to design and oversee the construction of the Peace Centre at the former prison site.
As part of their proposal McAdam have engaged Studio Daniel Libeskind (SDL) as a design champion for the education and research centre.
Martin Hare, from McAdam Design, said his company, which designed the Peace Bridge in Londonderry, had a 'track record in culturally sensitive projects.
"It is a fabulous privilege for our company to work on this project," said Mr Hare.
"The expectation and aspirations for this project could be seen as crippling for a design company but we didn't view it that way.
"It is a tremendous opportunity and to realise that opportunity we felt it was incumbent upon us to bring in an architect of international reputation.
"We were delighted when Daniel Libeskind agreed to partner with us on this exciting project.
With Daniel's experience within the field of conflict resolution, and as one of the world's leading architects., he will give this building the wow factor that will make it of international significance.
"There hasn't been a project M Northern Ireland in the last 50 years that carries such weight of expectation and that is as challenging or controversial," he concluded.
julieann.spence@ulsterstar.co.uk
Ulster Star
14/09/2012