Executive bosses blamed for lack of progress at the Maze
by JULIE-ANN SPENCE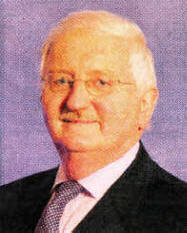 Councillor Ronnie Crawford
LISBURN Councillor Ronnie Crawford has hit out at the First Minister and Deputy First Minister for failing to progress the development at the site of the former Maze prison.
Mr Crawford highlighted the lack of progress with the way plans have sped ahead for the Titanic Quarter.
"A cursory glance will confirm the neglect of the Maze and the gilt-edged, multimillion pound progress in the Titanic Quarter," claimed Mr Crawford.
He noted that in January 2003 the Maze Monitoring Group was established, whilst in September 2002 the CEO of the Titanic Quarter was appointed. Since then little has happened at the Maze site, whereas the redevelopment of the Titanic Quarter has continued, with the new landmark Titanic centre due to open next month.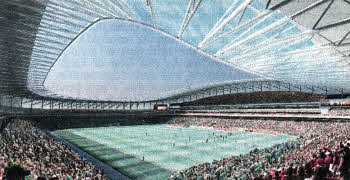 The once proposed Maze stadium.
"This is a massive indictment of Peter Robinson and Martin McGuiness with whose office responsibility for the Maze lies," continued Mr Crawford. "They are the two people solely responsible for the Maze site being devoid of development after all these years.
As a result the Lisburn ratepayer has lost tens of millions of pounds. Money which would have enabled the Council to make significant cuts to its rates and save many of the businesses which have now closed.
'A photo of Robinson and McGuinness should be placed on the window of every closed business because it is these two men, who enjoy the closest of political relationships, who are bringing parts of this city to its knees," he concluded. "That is something voters should never forget."
A tale of two cities
BELFAST TITANIC QUARTER
185 acres
Sept 2002 - Mike Smith appointed CEO of Titanic Quarter
2005 - N.I. Science Park established. Paint Hall used for film making
July 2006 - Work begins on first phase
Oct 2006 - Metropolitan College plan to build new £44 million campus
Oct 2007 - 2nd Phase starts inc. 200 new homes.
June 2009 - Work starts on £97 million Titanic Belfast Building. Belfast Harbour marina opens.
Nov 2011 - First Hotel opens 120 rooms. New Metropolitan Campus opened. Belfast Audi open new multi-million 42,000 sq ft HQ
Dec 2010 - First housing phase finished
Jan 2011 - Titanic Quarter construction generates £175m in contracts
April 2011 - New £30 million Public records Office opened
May 2011 - Titanic Quarter named in top 5 UK developments
July 2011 - Plans for new £80 million Data Centre approved
Aug 2011 - Titanic Quarter scoops top award for regeneration. Plan for new £6 million science park building announced
April 2012 - New Belfast Titanic building to open
MAZE DEVELOPMENT SITE
Size 360 acres
January 2003 - Monitoring Group set up
March 2005 - Maze chosen as preferred site for National Stadium
May 2005 - H Block and Hospital Buildings listed
May 2006 - Masterplan and Implementation Study published
Oct 2006 - Three Sports agree to use Stadium. Demolition of large part of site
January 2009 - Gregory Campbell ditches Stadium
April 2009 - Maze Development Corporation to be established
July 2010 - OFMDFM apply for £18 million EU Funding
Nov 2011 - Development Corporation still not established
March 2012 - Development Corporation still not established
julieann.spence@ulsterstar.co.uk
Ulster Star
09/03/2012