Family set out on fundraising challenge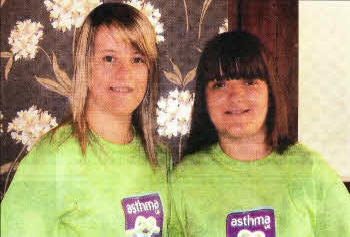 Sisters Lynsey (left) and Rachel McMillan (right) will join fellow family members at a charity bag pack in Sainsbury's Sprucefield on Saturday to raise funds for Asthma UK, as Rachel has had asthma her whole life. Lynsey will also take part in a skydive for the charity in July, as well as that the family has planned a variety of other fundraising events.
A LOCAL family will begin a fundraising challenge this weekend as they attempt to raise £3,000 for Asthma UK, a cause which is close to their hearts.
The McMillan family - mum Jennifer, dad Brian and sisters Nicola and Lynsey - will be raising the money for daughter and sister Rachel, who has had chronic asthma her whole life.
Rachel has been in and out of hospital, with her condition even preventing her from working.
Following a stay in hospital several weeks ago, Rachel's family decided to raise money for Asthma UK.
Sister Lynsey, who works in Sainsbury's at Sprucefield, was given permission from her management to hold a bag pack in the store tomorrow (Saturday) from 11am to 4pm.
The family will be out in force with their buckets and specialist Asthma UK t-shirts as they begin the challenge, which they hope will raise £3,000.
As well as the bag pack, a range of events have been organised including taking part in the Lisburn Fun Run, a charity night, and Lynsey will also take part in a skydive.
Rachel said: "I have been in hospital over 60 times over the years. I only got out from my last stay five or six weeks ago. Constantly I am on steroids or antibiotics to try to clear it.
"When I was last in hospital my sister Lynsey decided to raise money for Asthma UK who have been very supportive and have sent us t-shirts and buckets, everything we'll need.
Lynsey will also do a skydive on July 21 in Coleraine and we'll all be there to watch her. On August 18 we have planned a charity night with a raffle in Maze Social Club. When we sent out the invitations we included envelopes for donations, so we're hoping we can raise a lot from that."
Rachel added: "I would like to thank Sainsbury's for giving us the go-ahead to hold the bag pack."
Lynsey said: `Asthma has affected Rachel massively over the years, with not attending school and missing out on an education. As a family we have supported and helped Rachel over the years and now have felt that we would like to fundraise and help Asthma UK. The money raised will go
to help research a cure and give health care staff the knowledge to help save lives and help support other families.
"I would also like to thank Dunmurry Golf Club, Joe Mahon's Hotel, Irvinestown and Ed's Bar and Grill for donating prices for the raffle. Also to Sainsbury's Sprucefield for allowing the bag packing on Saturday, as well as everyone who has donated and helped in any way to support us with the fundraising."
stacey.heaney@ulsterstar.co.uk
Ulster Star
01/06/2012