Lisburn girl pipped for Miss HI crown
by JENNY MONROE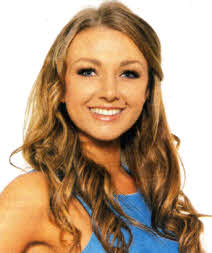 Meagan Green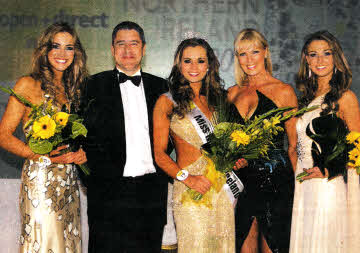 Tiffany Brien (middle) with Sarah Ennis (3rd), Mark Hallam, Alison Clarke and Meagan Green (2nd)
A FARMER'S daughter from Lisburn came first runner up in this year's Miss Northern Ireland competition.
Meagan Green, 22, a business management student, narrowly missed out on the crown which went to Tiffany Brien at a glittering ceremony in the Europa Hotel on Monday night.
Meagan, who has no previous modelling experience, said she was thrilled to have gone so far and is keen to pursue a modelling career now she has had a glimpse of what it is like.
She said; "I couldn't believe I had made it into the top seven never mind coming runner up. I was shocked as most of the other girls in the top seven had modelled before and there's me, a girl from the country.
It's just been a fantastic experience and I had so much fun and made a lot of friends in the run up to the competition."
Meagan had always had an interest in the competition but only decided to enter at the last minute during a heat in Omagh where she was there to support her friend Sarah. Coincidentally both girls made it through to the final.
The extravagant gala final was a glamorous affair hosted by TV presenter Zoe Salmon - a former Miss Northern Ireland herself - alongside TV news broadcaster, Marc Mallett.
And handing over her title, the 2011 winner Finola Guinnane, who had herself won the Lisburn heat to get through to the final last year, -said: "My year as Miss Northern Ireland has exceeded any expectations I had. I have enjoyed so many fantastic experiences and have met lots of really influential people along the way - including Alison Clarke who has been a great mentor and friend."
Ulster Star
18/05/2012