Medics go behind the scenes for front line skills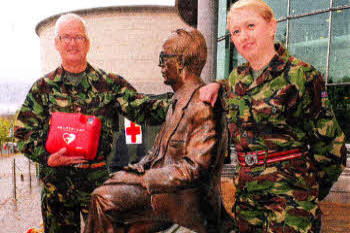 At the statue of the late eminent Professor Frank Pantridge, the former Royal Army Medical Corps doctor who invented the original defibrillator, are 204's Commanding Officer, Colonel Alan Black, (holding the latest version of the defibrillator) and Senior Nursing Officer, Lieutenant Colonel Joy McGrath.
EXPERIENCE and expertise gained in the world's war zones can bring benefits to civilian healthcare, a major clinical study day held recently in Lisburn has heard.
Many of the Territorial Army volunteers behind the event, hosted by 204 Field Hospital (Volunteers), have already faced the ultimate test of delivering medical care at the frontline and the unit is currently preparing for further deployment to Afghanistan early next year.
As they ramp up their own training in preparation for the challenge, the local TA Medics shared experiences and training benefits with fellow health care professionals from across the Province.
204's Commanding Officer, Colonel Alan Black, said, "A military hospital in Afghanistan is, in every sense, a long way from a 'typical' hospital here in Northern Ireland, but the lessons we learn dealing with trauma on the front line have considerable relevance back home. Our colleagues across the Health Service are already well aware of the leading edge work undertaken by Army Medical Services across the world and have consequently been eager to take up our invitation to attend our latest Study Day.
"This was an important clinical training opportunity, as evidenced by the five certified Continuing Professional Development points earned by those who successfully completed the training, but it also offered our guests an important opportunity to meet with some of the people who are already proud to add TA service to their resumes.
These highly focused and committed individuals balance demanding and often pressurised roles within the civilian Health Sector with their TA service. In doing so they take on many skills which they bring back from service overseas and put to good use in Ulster's hospitals and health centres.
"We are proud not only of those transferable benefits, but also of the service ethos which prompts our TA medics to go the extra mile. I hope that, through this most recent Study Day, they have inspired others with their knowledge and commitment - and perhaps encouraged some of our audience to find out more about the opportunities which are there for those who choose to serve with us.
Ulster Star
03/08/2012