Another school falls victim to oil thieves
by JULIE-ANN SPENCE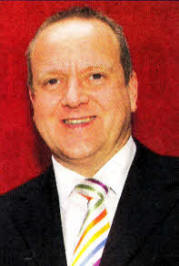 Paul Good
MEADOW Bridge Primary School outside Hillsborough has become the latest victim in a rural crime spree.
Over the last number of weeks it has been reported that rural schools, including Ballycarrickmaddy and Riverdale, as well as a church in Magheragall, have suffered thefts, with large quantities of heating oil and even church gates being stolen. Following the Diamond Jubilee weekend, staff and pupils returned to Meadow Bridge on Lany Road to find thieves had broken the padlock on the school gates and had stolen not only 6,500 litres of oil from two tanks at the school, but also toys and plants from the garden sheds.
"The caretaker came in after the extended break and although the school gates were closed as normal, the padlock was nowhere to be seen," explained Principal Mr Paul Good. "When he opened the gates he saw part of the padlock lying on the ground.
They must have had some sort of oil tanker to make the theft look viable," he continued. "They have taken 6,500 litres of oil valued at over £4,000, which is a lot of money for a school. Not only do we have to replace the oil but we will also have to consider buying special locks and
possibly installing CCTV"
Mr Good said the school was also saddened that toys and other items were stolen. "They must have been through the garden and broken into the sheds," he continued. "A shed door was broken and the lid to a sand pit.
"They took ten substantial scooters, a brand new go-kart and a number of trikes. They also took three window planters that children where using to grow plants, as well as spades that we use for the annual P1 outing to the beach.
"We have been here for nearly ten years and have never had any trouble. It is so sad that this has happened to the children," he added.
Lagan Valley MIA Edwin Poots has called on the police and the community to join together to 'crack down' on rural crime.
This is yet another despicable attack on our children," said Mr Poots. "What I want to see over the next couple of weeks is clear guidance coming from the police to alert the community to look out for people who are selling this oil onwards.
"We also need a co-ordinated effort from the community to identify oil thieves so that we can work together on this.
"There needs to be a real crackdown on this activity. This comes out of the school budget and it is the children who suffer; he. added.
Anyone with information about this latest theft, is asked to contact the police on 0845 600 8000. Alternatively, information can be passed to Crimestoppers on 0800 555 111.
julieann.spence@ulsterstar.co.uk
Ulster Star
08/06/2012