Theft of memorial plaque is `utterly condemned'
by JULIEANN SPENCE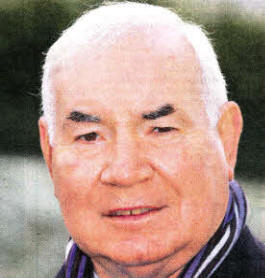 Ivan Davis
A MEMORIAL plaque to leading loyalist John McMichael has been stolen from the Low Road area. Former Mayor of Lisburn and Freeman of the city, Ivan Davis, condemned those responsible for the theft.
The plaque was erected 24 years ago in Grand Street in memory of John McMichael who was murdered by the IRA in December 1987.
The plaque was a small brass one with an inscription on it and would be easily recognisable.
It was located on the wall at the bottom of Hilden Court just a matter of yards from his home where he was killed in an IRA car bomb.
At the time Mr McMichael had been widely recognised as the architect of the 'Commonsense' document which argued for a devolved local government based on power sharing.
Mr Davis, who was a close friend of Mr McMichael, was outraged when he learnt of the theft.
I don't know what satisfaction anyone would get from removing a memorial plaque," said Mr Davis. "I utterly condemn this removal in the strongest possible terms, particularly bearing in mind this year will be the 25th anniversary of John's tragic death."
Mr Davis continued: "I would remind those responsible that when John McMichael became more political, he did so because he believed if there was a way into conflict then there was a way out. His Commonsense document offered hope, indeed it was one of the few rays of hope at the time, aimed at bringing a sense of normality and stability to the Province. .
"I trust in this anniversary year his contribution will be well and truly remembered because only those of us who knew him recognised his valuable input to the political process," he concluded.
The Chairman of the South Belfast UPRG, Colin Halliday, said the community was "disappointed" by the theft.
There is a lot of disappointment in the local area as this plaque had been in place for over 24 years and never once during the darkest days of the Troubles has it been vandalised or tarnished," said Mr Halliday.
"That clearly tells us that John was a popular man in the local area and widely respected.
"We are angered that now after all this time someone has stolen it and would urge anyone with any information on its whereabouts to get in touch with us."
Mr Halliday added that a series of events have been planned for later in the year to mark the anniversary of Mr McMichael's death.
"A parade, a political panel debate and a series of educational workshops featuring video footage of John will be held over the autumn," he concluded.
julieann.spenc,e@ulsterstar.co.uk
Ulster Star
24/08/2012