Michelle is crowned Young Artist of the Year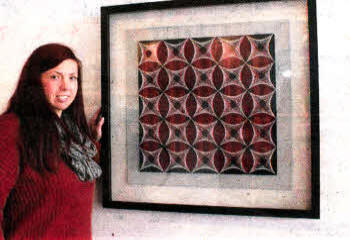 Michelle Stephens, who won the Young Lisburn Artist of the Year award from Lisburn Arts Advisory Committee
MICHELLE Stephens has been crowned Young Lisburn Artist of the Year by the Lisburn Arts Advisory Committee.
From large wall installations to tiny brooches, Michelle creates art works that intrigue and enthral. Using her skills as a weaver, mathematician and technologist she pushes the boundaries of her 'craft' to the limit, making work that is stunningly artistic and unusual.
Since leaving Art College in 2011, where she obtained a first class honours degree in textiles and subsequently completed a year as Artist in Residence, she is now on the Craft NI 'Making It' programme with R-Space Gallery in Castle Street in Lisburn, where she had her first solo show in July this year.
Winning the Lisburn Arts Advisory Committees Young Artist of the Year Award has given Michelle
the opportunity to attend various workshops at the Digital Arts Studios in Belfast and elsewhere. Studying new technologies such as video and sound installation, LED lighting and learning how to weld and shape metal with a blacksmith, she is bringing her work to new levels and broadening her practice.
Using a laser to cut metal, hardwood veneer and other materials, Michelle amalgamates these pieces with coloured threads, but never loses references to the loom and the social and historical connotations of weaving techniques. Following a six month research project at The Ulster Folk Museum, Cultra and the Linen Museum, Lisburn, she made a recording of punch cards being stamped out for a large jacquard loom. Lights echoed the sounds and The Rhythm of a Weaver' — a sound and light installation was created.
In between her research and work in the R-Space studio, Michelle manages to find time to take her loom into nursery and primary schools to show the pupils how weaving is done. "They are really interested when they see it working," she said, "and it is wonderful to see them suddenly realise that cloth doesn't magically appear in a shop."
Her next project involves 'yarn bombing' with students from The University of Ulster and The Harmony Hill Craft Group which will take place in Wallace Park on October 31 where they are taking part in the 'Twilight Night by Fairy Light' Halloween celebration. There will also be a craft fair where there will be an opportunity to buy some of her smaller pieces.
All Michelle's work is intricately worked out and drawn first and these are art works in their own right. She is continually experimenting and her studio is a treasure trove of bits and pieces 'in progress from solar powered LED lights hanging in the window to a piece of fabric interwoven with fine wire that can be 'sculpted'. Combining technology and craft is a continual quest for this dedicated Lisburn artist. "People ask me where do I get my ideas - they just come through experimentation - it's fantastic," she added.
Michelle's work can be seen in Lisburn City Library until the end of October.
Ulster Star
19/10/2012