Beauticians scoop top awards in UK competition
by JENNY MONROE,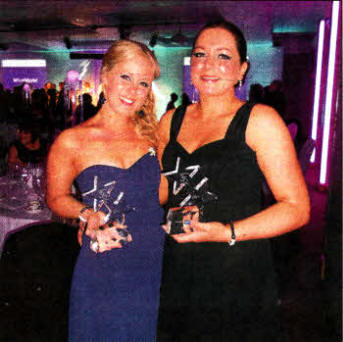 Victoria Kelly, left and Kara-Lyn Poots pictured at the UK beauty awards.
A MOIRA beauticians is celebrating after two of its therapists were honoured at the UK beauty awards often referred to as the beauty oscars.
UK Beauty Therapist of the year was Kara- Lyn Poots, proprietor of the Karen Francis Health and Beauty clinic while senior therapist, Victoria Kelly walked off with the Nail Technician of the Year award.
It was a second time success for Kara-Lyn who also won this title in 2010. A former Wallace High school pupil and Business Studies graduate, she has worked in the beauty industry for over ten years, training with both the International Dermal Institute & skin care moguls Dermalogica to name but a few.
Her success is even more remarkable when you consider the fact that she had life saving heart surgery during the past year, but being the consummate professional that she is, she was back at the helm within a few short weeks.
Speaking of her achievement, Kara-Lyn said: "I feel honoured to be given this award for a second time now. I truly love my job and while the past year has been a tough one, I have had the support of a wonderful team of staff and receiving these awards has simply put the icing on the cake."
When the results were announced at the glittering ceremony in the Royal Garden Hotel. Victoria Kelly, who completed her beauty training at Southern Regional College, Dugan four years ago, was ecstatic. She said: "This is the first competition I have ever entered. My portfolio for the competition showed a lot of different variations of nail art that I have carried out in the salon and the judges were very complimentary about them."
BABTAC (British Association of Beauty Therapists and Cosmetologists) the premier association for beauty therapy in the UK, organised the competition to further their aim of continuously improving standards within the industry, for their 10,000 members.
Kara-Lyn commented: "We aim to have this standard, not just for competitions, but for every client who visits the salon. All procedures are carried out to a professional specification and are totally geared for each individual client. Our mantra is "treat each customer as you would like to be treated and ensure that every treatment is of the highest professional standard and is totally designed for each individual."
Ulster Star
06/07/2012