Natasha soars to new heights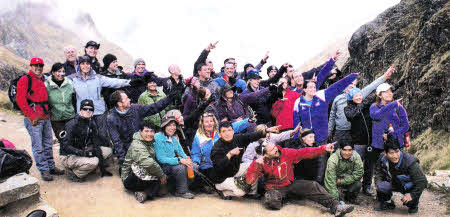 The trekkers at the Dead Woman's Pass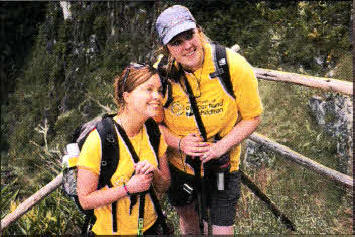 Natasha Walker with Heather McFadden taking part In trek In Peru.
A LISBURN girl left her hair straighteners, make up and mobile phone behind to embark on a truly spiritual adventure of a lifetime in Peru.
Natasha Walsh, along with 12 other adventurers who trekked on behalf of the Northern Ireland Cancer Fund for Children, raised £40,000 when they took part in a trek along the magnificent Inca
Natasha, who is a representative of NICFC, travelled on May 12 to a remote yet beautiful area of Peru. She flew on four aeroplanes before reaching her final destination.
"I was struck by the striking differences in culture and sights," said Natasha. `Amid the hustle and bustle there were dogs everywhere, brightly attired women holding baby lambs and lots of red brick houses.
"The views were absolutely out of this world. Some of the sights were literally jaw dropping — I would be walking along and have to stop mid-conversation. Being in the Cloud Forest was entirely surreal, it was like we were camping in the sky," she said. The trek was not without its challenges. On day two they had a physically challenging climb to the Dead Woman's Pass.
"We climbed 4215 metres and then had to descend a further 1000 metres before we could set up camp," said Natasha. "By the time we reached Machu Picchu a few days later, everyone was totally exhausted but incredibly happy.
"Some people got very emotional and cried tears of pure joy. One man on our team said he had realised his life's dream by completing the trek."
The trek concluded in Machu Picchu the Lost City of the Incas a stretch of 26 miles that combined stunning views of the Andes, a breathtaking cloud-forest and an intriguing collection of Incan paving stones and ruins.
Natasha said that she was filled with pride and relief when she finished.
"After completing the trek, our porters sang us a farewell song and we returned the favour by performing a rendition of The Proclaimer's classic 500 Miles," she said,
It was hilarious. We also went white water rafting which in a country like Peru is such an amazing experience. I have made some fantastic friends for life as a result of this experience," she said.
It really makes it an almost spiritual experience and an extremely personal one at that — it forces you to get back to basics. Everyone should do that once in a while," she said.
Natasha would strongly recommend anyone thinking of doing the trek to do so.
"The friends I made and the experiences I had in Peru will stay with me for the rest of my life," said Natasha. "You will be amazed at what your body can cope with and you will be so proud of yourself for pushing yourself out of your comfort zone.
"Its also a great way to raise money for charity — so far we have raised over £40,000 for NICFC as a result of the trek and there is still more money to come in,"
Natasha is appealing for volunteers to get in touch with the charity Volunteers can help in a number of ways including bag packing events at supermarkets and street collections.
You can contact Natasha on 028 9080 5599.
Ulster Star
15/06/2012